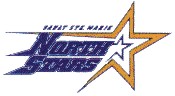 The Soo North Stars finally wrapped up their Great North Midget League regular season schedule on Tuesday night with a 4-1 win over the Nickel City Sons.
The game had been rescheduled from its original date prior to Christmas to Tuesday of last week before being rescheduled 24 hours later due to weather only to be pushed back one more time to Tuesday night.
With the win the North Stars finish in top spot in the GNML standings with a record of 32-1-0-1, good for 65 points. The Sudbury Nickel Capital Wolves finished second with a 26-6-2-0 record (54 points).
The full GNML standings heading into the playoffs are:
Soo North Stars – 32-1-0-1 (65 points)
Sudbury Nickel Capital Wolves – 26-6-2-0 (54 points)
Kapuskasing Flyers – 24-8-1-1 (50 points)
Timmins Majors – 16-16-2-0 (34 points)
Nickel City Sons – 14-18-2-0 (30 points)
North Bay Trappers – 14-19-0-1 (29 points)
New Liskeard Cubs – 8-25-0-1 (17 points)
Kirkland Lake Legion 87's – 2-32-0-0 (4 points)
On Tuesday night, Anthony Stefano scored a goal and set up two others in the win. Ryan Vendramin, Cody Caron and Jaron Rowe also scored for the North Stars.
"We looked tired tonight after coming off the three-game swing (over the weekend)," said North Stars coach Mike Hall. "We would never schedule a game like this after the three game swing. We looked lethargic at times. I didn't think we moved the puck that well. We created some good opportunities but we needed to shoot the puck more."
Hall added that despite the fatigue factor from the game being rescheduled after a trip that took the North Stars on the road to New Liskeard, Kirkland Lake and Timmins, he was pleased the team was able to finish off the season with the victory.
With the regular season in the books, the North Stars finished with the GNML's top four scorers:
1. Anthony Stefano – 36 goals, 63 assists, 99 points
2. Ryan Vendramin – 47 goals, 45 assists, 92 points
3. Devin Shell – 27 goals 55 assists, 82 points
4. Matt Pinder – 36 goals, 41 assists, 77 points
In goal, North Stars netminders Jacob and Brian Kment finished first and third respectively in goals against average.
The GNML playoffs open this weekend as the Soo North Stars will open their best-of-5 first round series on Saturday night against Kirkland Lake. Game two is set for Sunday afternoon. Puck drop is scheduled for 7 p.m. on Saturday and 1 p.m. on Sunday.