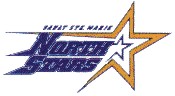 The Soo North Stars continued their roll through the Great North Midget League playoffs on the weekend.
The North Stars opened up their second round playoff series with the Nickel City Sons by winning games one and two on home ice at the Essar Centre.
The locals opened the series with an 8-0 win on Saturday night before capping off the weekend with a 6-1 win on Sunday.
Ryan Vendramin opened the weekend with two goals and three assists in the opening game win. Anthony Stefano added a goal and four assists for the North Stars. Cody Caron chipped in with two goals and two assists offensively. Matthew Mitchell, Kaelan O'Flynn and Jaren Bellini also scored for the North Stars. Jacob Kment picked up the shutout.
In game two on Sunday afternoon, the North Stars fell behind 1-0 after one period before scoring six unanswered goals in the win. Jaron Rowe scored a pair of goals to pace the North Stars. Stefano added a goal and two assists while Vendramin, Bellini and Brandon Grandinetti also scored.
Malcolm Bilton scored the lone goal for Nickel City in the loss.
North Stars coach Mike Hall was pleased with the two wins to open the series.
"We're excited to get out of here with two wins," said Hall. "Hopefully we can go down there and steal one to limit the possibility of suspensions or injuries and get a little bit more rest. That's what we're gunning for."
Hall was disappointed with the early game efforts on both nights in the wins.
"We're not having very good first periods and that's what we talked to the kids about," said North Stars coach Mike Hall. "As we move forward to the Telus Cup, if you don't have a good period, (teams) can put you out of a game pretty quick."
Game three is set for Mar. 2 in Sudbury.