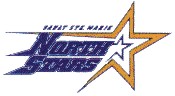 The Soo North Stars picked up a pair of Great North Midget League wins over the weekend with a sweep of the North Bay Trappers.
The North Stars opened the weekend with a 7-3 win on Saturday before capping off the weekend with a 9-5 win on Sunday.
On Saturday, Ryan Vendramin led the way offensively with a pair of goals and an assist in the win. Devin Shell set up three goals for the North Stars. Nick Trecroce, Cody Caron and Nathan Hebert had a goal and an assist each in the win. Jaron Rowe and Matt Pinder also scored. Jack MacLeod and Anthony Stefano had two assists each. Eric Champagne, Tyler Kennedy and Nathaniel McLeod scored for North Bay in the loss.
On Sunday, Pinder and Jaren Bellini scored a pair of goals each and assisted on four goals each in the North Stars weekend-ending sweep. Shell added two goals and three assists in the win. Vendramin, Stefano and Caron each added a goal and an assist in Sunday's win. Tyler Peters scored three goals and an assist for North Bay. Steven Leveque added four assists for the Trappers.