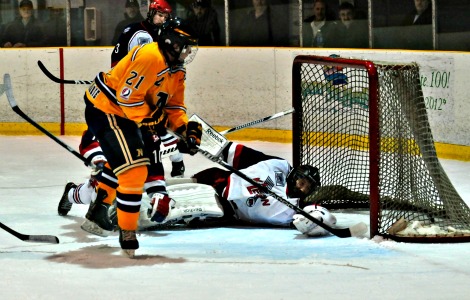 The Soo North Stars capped off a weekend sweep of the Kirkland Lake Legion 87's in Great North Midget League action locally.
The North Stars outscored Kirkland Lake 35-2 in the weekend set.
On Saturday, the North Stars received a seven-point performance from Devin Shell in a 20-1 win. Shell finished the night with four goals and three assists to lead the offensive attack. Jaren Bellini had three goals and three assists in Saturday's win while Anthony Stefano added three goals and two assists and Matt Pinder had two goals and three assists. Ryan Vendramin had a goal and four assists in the win while Cody Caron chipped in with two goals and two assists. Nathan Hebert (two), Cade Nolan, Cameron White and Kaelan O'Flynn also scored.
Marshall Nikitin scored the lone goal on Saturday for Kirkland Lake.
On Sunday, Jaron Rowe had four goals and two assists in a 15-1 win. Stefano had another big day with three goals and four assists while Vendramin (two), Shell (two), Hebert (two), Pinder and Matt Mitchell also scored.
Connor Lamoth scored the lone goal Sunday for Kirkland Lake.
The North Stars now travel to Sudbury for a mid-week game against the Nickel Capital Wolves on Wednesday night.
Photo courtesy Jim Egan