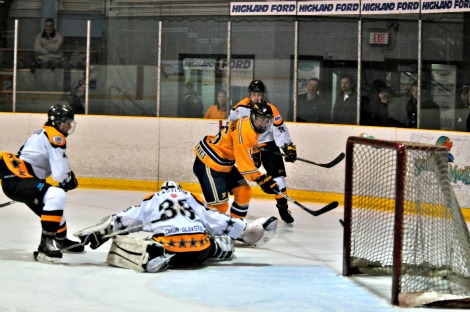 With five games still in hand, the Soo North Stars pulled to within two points of the Sudbury Nickel Capital Wolves thanks to a sweep of the Timmins Majors over the weekend in Great North Midget League action.
The North Stars beat Timmins 8-2 on Saturday before capping off the weekend sweep with a 7-3 win on Sunday.
On Saturday, Ryan Vendramin and Anthony Stefano had two goals and an assist each in the win while Matt Pinder added a goal and two assists. Nick Trecroce and Devin Shell had a goal and an assist each while Matt Mitchell also scored.
Brandon Renaud had a goal and an assist for Timmins in Saturday's loss while Tyler Romain also scored.
On Sunday, Stefano scored a pair of goals and set up two more to pace the North Stars offence. Cody Caron had three goals while Trecroce added three assists in the win. Vendramin and Pinder had a goal and an assist each while Shell and Jaron Rowe had two assists each.
For Timmins, Romain and Austin Boulard had a goal and two assists each on Sunday while Troy Columbus also scored.
North Stars coach Mike Hall said following Sunday's win that, despite the results, the team seems to have hit a bit of a slump.
"We're in a little bit of a downturn right now," said Hall. "We had a pretty good third period here (Sunday) against Timmins. In the game against Sudbury (on Thursday) and even Saturday against Timmins, I didn't think our compete level was anywhere near what we need. The only positive about the weekend was the last period we played was a good period."
Hall added that a solid third period could translate into the team playing through their issues.
"Hopefully we're starting to come out of it. We're the type of team that we've got enough talent that sometimes we can win on talent alone," said Hall. "That's certainly not the way we've built this team. That's something that we keep addressing and hopefully we can play through it."
Next up for the North Stars is a road trip to Kapuskasing to take on the Flyers next weekend. The Flyers are the lone team to have beaten the North Stars in regular season action, scoring a 5-4 overtime win over the North Stars on Oct. 6 at the John Rhodes Community Centre.
Photo courtesy Jim Egan