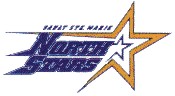 The Soo North Stars beat the Sudbury Nickel Capital Wolves 9-3 on Wednesday night in Sudbury.
Ryan Vendramin scored three times and set up four more goals in the win. Vendramin currently sits in top spot in the Great North Midget League scoring race with 29 goals and 61 points in just 17 games.
Devin Shell added three goals and two assists while Jaren Bellini set up three goals in the win. Anthony Stefano had a goal and an assist for the North Stars while Nathan Hebert had two assists. Jaron Rowe and Cody Caron also scored in the win.
Niibin Nashkawa, Andrew Dodge and D.J. Hancock scored for Sudbury in the loss.
Despite the loss, the Wolves remain in top spot in the GNML standings with a 17-4-0-1 record and 35 points. The North Stars sit second with a 16-0-0-1 record (33 points). The North Stars hold five games in hand on the Wolves.