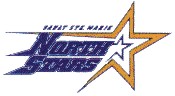 The Soo North Stars have had plenty of tournament success this season.
After tournament wins in London and Kitchener already this season, the North Stars came one goal short of wining their third tournament of the season at the Soo Greyhounds International Showdown locally.
The North Stars lost in the tournament championship in overtime to the Thunder Bay Kings.
Nick Nigro scored at 1:14 of overtime to give the Kings the tournament title.
The Kings jumped ahead 2-0 in the second period on goals by Ryan McQueen and Brad Arabia.
Devin Shell scored a power play marker in the final minute of the second period to cut the Kings lead in half and then Nathan Hebert tied the game in the opening moments of the third period.
"I didn't think we had a good first period but in the second and third, we were all over them," said North Stars coach Mike Hall. "They (Thunder Bay) were gassed. They kept icing the puck. Hockey's a game of breaks. We had a breakaway in overtime and missed it and Thunder Bay came back down and scored. That's the way it goes sometimes. Our biggest thing is we want to play stiff competition and we're getting it in the tournaments. The wins are always nice but to play good quality teams is what it's all about."
The North Stars also had an opportunity late in the third period when Hebert beat Thunder Bay netminder Nathanial Dupuis, only to have the goal called back because the net was dislodged.
"We thought we had won the game in regulation," said Hall. "But that's hockey. It's a game of breaks and we don't get too many."
To get to the championship game, the North Stars beat the Michigan Nationals 5-0 while Thunder Bay beat Markham 4-1.
The tournament award winners included:
Top Forward: Devin Shell, Soo North Stars
Top Defenceman: Nolan Nicholas, Thunder Bay Kings
op Goalie: Nathaniel Dupuis and Erin Mann, Thunder Bay Kings
Most Valuable Player: Anthony Stefano, Soo North Stars