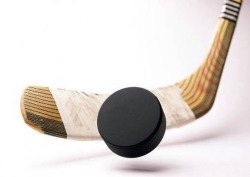 This week saw Soo North Stars forward Ryan Vendramin officially sign with the Ontario Hockey League's Sarnia Sting.
Vendramin was selected by the Sting in the 13th round of the 2012 OHL Priority Selection by the Sting after being bypassed in his first year of eligibility in 2011.
The Sting made the signing official when they arrived in town to face the Greyhounds earlier this week.
"He's a very skilled kid and after this year we're going to lack some skill," said Sting GM/Coach Jacques Beaulieu. "He's a pure goal-scorer and that's what we were looking for. He's got great numbers here in major midget so hopefully he can do it at our level. We know it's going to take some time."
Vendramin skated with the Sting during their morning skate prior to Wednesday night's game and practiced with the team in Sarnia while the North Stars were on their Christmas break in December.
Vendramin was excited to sign with the team.
"It's a great feeling (to sign)," Vendramin said. "It's a great organization with some good players and a good coaching staff. I'm excited to join them."
The 17-year-old forward scored 47 goals and 93 points for the North Stars in 34 games. His 93 points left him second in league scoring behind teammate Anthony Stefano.
Vendramin noted he hopes to improve some aspects of his game prior to training camp next fall.
"I'm planning on working hard this summer to get some good minutes there next year," said Vendramin. "I'm going to work on my strength and my skating. It's not a bad weakness but at (the OHL) level it could be a weakness if I don't work on it."