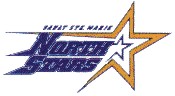 The Soo North Stars pulled to within two points of the Sudbury Nickel Capital Wolves in the Great North Midget League standings on Thursday night.
Thanks to a 3-2 win over the Wolves at the John Rhodes Community Centre Thursday, the North Stars are just two points back of the league leaders with six games in hand as the Christmas break approaches.
Jack MacLeod was the hero for the North Stars on Thursday as he drove the Sudbury net and redirected a feed from Anthony Stefano past Sudbury goaltender Jean-Marc Desormeaux with just four seconds remaining in regulation time.
"That was a veteran play (by MacLeod)," said North Stars coach Mike Hall. "He knew how much time was on the clock. We tell our defencemen that anything under ten seconds to push to the net. The other team can't come down (late). Jack realized time was running out and pushed right into the play."
Hall said it was the first time this season that the North Stars were outplayed by their opposition.
"For the first time this year, I can honestly say that we got a result but it was a result we didn't deserve," said Hall. "We got out-competed for the first time this year. They out-competed us in our own rink.
"We got a result but it's certainly not the effort we've been consistently getting from our kids," Hall added. "But everyone is entitled to a bad game."
Jaron Rowe and Ryan Vendramin also scored for the North Stars in the win while Brian Kment was between the pipes for the locals.
Michael Laidley and D.J. Hancock scored for Sudbury in the loss.
"We've been on a little down part to our season," said Wolves coach Peter Michelutti Jr. "We've had a lot of injuries and it's been tough the last little bit. Our biggest goal was to see if we could compete with these guys and an effort like this really showed that we're with them. If we play the way we can, we'll be there at the end of the year to give (the North Stars) a go."
With the win, the North Stars remain undefeated in regulation time and hold a record of 17-0-0-0-1. The Wolves hold a record of 18-5-0-1.
The North Stars return to action on Saturday night when they host the Timmins Majors in the first of a two-game weekend set. Puck drop on Saturday is set for 7 p.m. while Sunday the two teams will face off at 1 p.m.