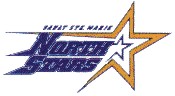 PRESS RELEASE
SOO NORTH STARS
********************
The goal of being the best in Canada is something the Sault Ste. Marie North Stars have in mind this hockey season. Having Sault Ste. Marie selected as the host city for the Telus Cup National AAA Midget Championship is a great inspiration to achieve that goal, since the North Stars have an automatic berth into the tournament. However as host the goal is to enter the tournament as a champion not just as host. This week the North Stars moved one step closer to believing they have a team that can and will compete.
The North Stars are proud to announce that they have been ranked as the #1 AAA Midget team in Canada by two Top Ranking Websites. North Stars forward Ryan Vendramin has also been ranked the Top AAA Midget Forward for the month of November by MidgetAAACanada.com.
MidgetAAACanada.com is a highly respected Midget Website throughout the country; they keep statistics, scores and articles on all AAA midget leagues in Canada. Their website is:www.midgetaacanada.com.
Also MyHockeyRankings.com has ranked the North Stars as #1 in Canada on their website. You can access their site at: www.myhockeyrankings.com.
What better time for Sault Ste. Marie Hockey fans to purchase Telus Cup Ticket packages! Your home town team is #1 in the country with November's top rated forward, Ryan Vendramin. The team sports a 19-0-0-0-1 record in Great North Midget League play and have won two tournaments this year; the London Green Gold Tournament and the Kitchener Blueline Tourament. In the local Greyhound Invitational Tournament the North Stars lost in overtime to the Thunder Bay Kings in the championship game.
Currently the North Stars have five players in the top ten in Great North Midget League scoring. Ryan Vendramin is in top spot with 33 goals and 35 assists for 68 points, Anthony Stefano is second with 27 goals and 38 assists good for 65 points, Devin Shell sits third with 20 goals and 37 assists for 57 points, Matt Pinder is fourth with 24 goals and 24 assists for 48 points, while Jaron Rowe is in the 7th spot with 19 goals and 25 assists for a total of 44 points. Rounding out the top 25, the Stars have Jaren Bellini in 12th place with 15 goals and 22 assists good for 37 points and Cody Caron in the 20th spot with 13 goals and 14 assists good for 27 points. The North Stars goaltending duo of brothers Brian and Jacob Kment sit one and two in Great North Midget League goaltending with Brian carrying a 2.075 goals against record, good for the top of the standings, while Jacob is second with a 2.222 goals against record.
Telus Cup Ticket Packages are on sale right now for a Pre-Christmas price of $40.00 plus a $6.00 service charge. That is 15 round robin, 2 semi-final and a Bronze and Gold games; a total of 19 games of top calibre midget hockey. What a great Christmas Gift for the hockey fan. Packages are on sale at the Essar Box Office, all North Star home games, at Greyhound games and online from Hockey Canada at: http://hockeycanada.ca/index.php/ci_id/195874/la_id/1.htm

The North Stars and the Telus Cup Organizing Committee would like to take this time to wish everyone a very Merry Christmas and a Happy New Year.
********************