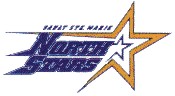 A four-goal third period solidified a big win for the Soo North Stars on Saturday night in Great North Midget League action against the North Bay Trappers.
Leading 3-0, the North Stars scored four times in a 10-minute span to cap off a 7-0 win over the Trappers.
With the win, the North Stars head into the Christmas break with just one blemish on their record, a shootout loss to Kapuskasing. The North Stars currently sit in top spot in the GNML with a 22-0-0-1 record and two points ahead of the Sudbury Nickel Capital Wolves. The North Stars also hold four games in hand on the Wolves.
Anthony Stefano scored a pair of goals and assisted on another in Saturday's win. Matt Pinder also had a three-point night with a goal and two assists. Cody Caron and Devin Shell had a goal and an assist each in the win. Jaren Bellini and Matthew Mitchell also scored for the North Stars while Jacob Kment picked up the shutout.
Also, earlier this week, the North Stars competed in their annual Christmas game, where they faced the Praxair Panthers Pee Wee Major team, dropping a 21-20 decision.