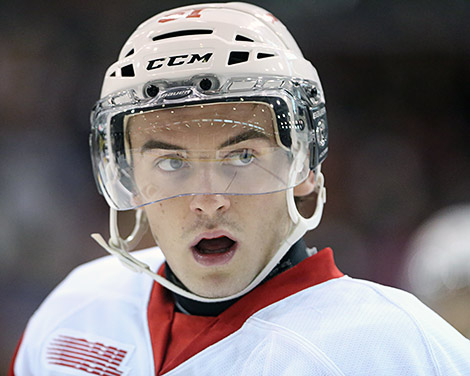 The 2014 National Hockey League Entry Draft is set to open on Friday night in Philadelphia.
The two-day event kicks off with the first round on Friday night, followed by rounds two through seven the following day.
A number of Soo Greyhounds, as well as numerous players with ties to Sault Ste. Marie, hope to have their names called by one of the 30 NHL teams.
Forward Jared McCann is expected to be the first Greyhounds player selected.
The 18-year-old forward is expected by many to be selected in the latter half of the first round on Friday.
McCann scored 27 goals and 62 points, both career highs in his two teams with the Greyhounds. His 35 assists were also a career high. In two seasons as a Greyhound, McCann has 48 goals and 106 points in 128 games. In the 2014 OHL playoffs, McCann had two goals and seven points in nine games.
Goaltender Brandon Halverson has also received interest and is widely considered to be among the top North American goaltenders available. The Traverse City, MI native was ranked sixth among North American goaltenders on NHL Central Scouting's final rankings while independent scouting company International Scouting Services had Halverson ranked sixth among all goaltenders. HockeyProspect.com, another independent company, had Halverson ranked ninth among goaltenders and 146th in their overall player rankings.
Halverson posted a 12-6-1 record in 19 games with the Greyhounds during the 2013-14 season as a backup to veteran netminder Matt Murray. Halverson posted a 2.96 goals against average and a 0.906 save percentage in his first season with the team.
Rookie Greyhounds forward Michael Bunting has also draw major interest. Not on most draft radars to open the season, Bunting scored 15 goals and 42 points in 48 games before chipping in with five goals and six points in nine playoff games.
Another rookie with the Greyhounds, defenceman Kyle Jenkins found a role as a top-four blueliner with the team in his first full OHL season. After suiting up in one game during the 2012-13 season, Jenkins got into 63 games as a Greyhound in 2013-14, scoring seven goals and 25 points in the process.
Niagara IceDogs forward Brendan Perlini, a Sault native, is seen by many as a first-round pick and expected to go in the top half of the opening round. After splitting 59 games with the IceDogs and Barrie Colts during the 2012-13 season where he posted eight goals and 12 points, Perlini scored 34 goals and 71 points in 58 games with Niagara this season.
Another Sault Ste. Marie native in North Bay Battalion forward Michael Amadio is rated by many as a mid-round pick. Amadio spent time this season on North Bay's second line and scored 12 goals and 38 points in 64 games. The 18-year-old spent his first OHL season with the organization while in Brampton and scored six goals and 19 points in 63 games.
Other players with Sault Ste. Marie ties who could be selected on the weekend include Guelph Storm forward Robby Fabbri and forward Zach Bratina, a teammate of Amadio's in North Bay.
Fabbri is expected to be selected late in the first round on Friday or very early on day two on Saturday as a second-round pick after a 45-goal season with the Storm where he was also named the OHL's most valuable player in the playoffs.
Bratina has been rated by many and a mid- to late-round possibility after splitting the 2013-14 season with the Battalion and the Saginaw Spirit.
File photo of Soo Greyhounds defenceman Kyle Jenkins by Kenneth Armstrong/SooToday.com