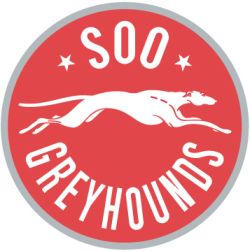 PRESS RELEASE
SOO GREYHOUNDS AAA MINOR BANTAM
********************
The Algoma Industrial Soo Greyhounds AAA Bantam minors went 1-1-2 over the weekend in the Oshawa Spirit Challenge Tournament and finished one goal short of making the semi's in the 12-team tournament.
The first game of the tournament saw the local club against one of the top AAA teams in Ontario playing the Eastern Ontario Wild. This result was a disappointing 9-2 lose for the locals. Goals were scored by Zachary Taylor and Lucas Stefano. Assists were picked up by Nolan Makkonen, Gage Stephney, Taylor and Stefano. The goaltending duties were shared by Garrett Boyonoski and Matthew Reid.
Game two was a much better effort as the Greyhounds were all over the host-Oshawa Minor Generals but ran into a hot goalie. The final score was a 1-1 tie, securing a single point setting up must win situations for both Saturday games. The single goal went to Stefano while the assists went to Steven Khull and Daniel Mills. Reid was in net for the tie.
In the Saturday afternoon game, the Soo team battled a highly-ranked Kitchener Jr. Rangers and came out with a 4-3 win in a penalty-filled affair. Goals were scored by Taylor (two), Stefano and Mark Tassone. Assists were awarded to Liam Brescacin, Makkonen and Stefano. Boyonoski was in net for the victory
In game four, the Greyhounds needed another win to move on to the semi-finals. Playing the Toronto Red Wings, they came up a goal short of the semi's and tied 3-3. Goal scorers were Holden Brock, Stephney, and Stefano with assists going to Taylor (two), Stefano, Khull, Tassone, and Brescacin. Reid was in net for the tie.

It was disappointing being one goal short of qualifying for the semi's especially knowing they had defeated one of the teams that advanced.
Next action for the Hounds is this coming weekend when they host Marquette for three games.
********************