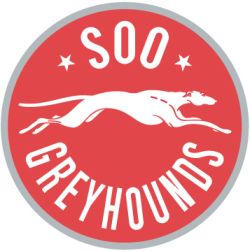 PRESS RELEASE
SOO GREYHOUNDS MINOR BANTAMS
********************
The Algoma Industrial Soo Greyhounds AAA Bantam Minor travelled to Marquette for a three game exhibition series taking five of a possible six points on the weekend.
In the first game, the Hounds beat the Marquette Sentinels 1998's by a score of 4-2. Hound goal scorers were Darrell Baker, Mark Tassone (two), and Zachary Taylor. Assists went to Gage Stephney, Lucas Stefano, Holden Brock (two), Dyllon Anderson, and Daniel Mills.
Game two saw the Soo team coming from behind to win 6-5. After going down by three goals early in the first the Hounds battled back to even the game at three and ended the game by holding off the surging Sentinels in the dying minutes to preserve the victory. Goal scorers for the locals were Stefano (two), Tassone, Brock, Nicholas Smith and Steven Khull. Assists went to Brock, Tassone and Taylor.
Sunday morning saw a more defensive battle as the game finished tied 2-2. Darrell Baker and Brock scored one each while Liam Brescacin got the single assist. Garrett Boyonoski got the call in net all three games as the team travelled with only one goalie this weekend.
The Hounds are back in league play next weekend when they host a three game series against Nickel City Sons AAAB minors in a tight battle that will help determine 1st place. Game times are Dec 8th at 1:00 p.m. at the Rankin and 8:00 p.m. at the McMeeken and Dec 9th at 11:00 a.m. at the Rankin arena.
********************