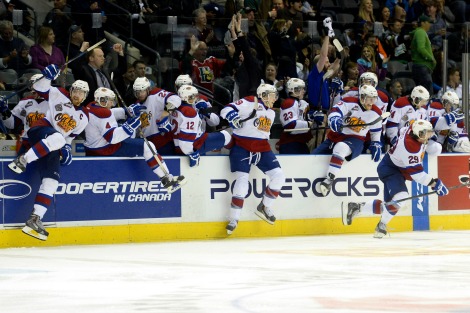 LONDON, ONT. - The second team for the 2014 MasterCard Memorial Cup final has been determined, and it took the longest game in tournament history to decide it.
The Western Hockey League's Edmonton Oil Kings beat the Quebec Major Junior Hockey League's Val-d'Or Foreurs 4-3 in triple overtime Friday night to advance to the final.
Curtis Lazar was the hero, redirecting a point shot by defenceman Cody Corbett past Val-d'Or goaltender Antoine Bibeau at 2:42 of the third overtime to give Edmonton the win.
"My first thought was to go to the net," Lazar said of the game-winner. "It's such a big relief right now, especially since (the Val-d'Or) goal in the third (that tied the game), that was my guy and I felts guilty about that."
Edmonton opened up a 3-1 lead in the game thanks to goals by Mads Eller, Mitchell Moroz and Edgars Kulda. Goaltender Tristan Jarry made 46 saves in the win.
"It was a crazy night," said Oil Kings coach Derek Laxdal. "The overtime periods were outstanding. The overtime goal was something that we actually worked on in practice (Thursday) to changes the angle of the pucks on Bibeau because he's been so good. You have to credit both hockey clubs. It was an unbelievable game."
The Foreurs managed to battle back and tied the game with 36 seconds left in regulation time on a goal by Guillaume Gelinas. Phil Pietroniro and Randy Gazzola also scored for Val-d'Or. Bibeau made 50 saves for the Foreurs.
"I'm proud of our team," said Val-d'Or coach Mario Durocher. "They never quit. They deserved a better result so they could play on Sunday. We can leave London with our heads up. We're proud of what we accomplished all season long."
At 102:42, the game eclipsed the previous mark for longest game in tournament history, set in 2005, also in London. That year, the Ottawa 67's beat the WHL's Kelowna Rockets in double overtime on a goal by former Soo Greyhound Brad Staubitz. Staubitz scored at 15:41 of the second overtime period on May 22, 2005 in a round robin game between the two clubs.
The Oil Kings advance to Sunday's championship game, set for 4 p.m. against the Guelph Storm.
****
ROUND ROBIN STANDINGS
Guelph Storm (OHL): 3-0
Val-d'Or Foreurs (QMJHL): 2-1
Edmonton Oil Kings (WHL) 1-2
London Knights (Host): 0-3
FULL SCHEDULE
Round-Robin Game 1 – May 16: Val-d'Or 1, London 0
Round-Robin Game 2 – May 17: Guelph 5, Edmonton 2
Round-Robin Game 3 – May 18: Edmonton 5, London 2
Round-Robin Game 4 – May 19: Guelph 6, Val-d'Or 3
Round-Robin Game 5 – May 20: Val-d'Or 4, Edmonton 3 (2OT)
Round-Robin Game 6 – May 21: Guelph 7, London 2
Semi-Final – May 23: Edmonton 4, Val-d'Or 3 (3OT)
Championship – May 25: Guelph vs. Edmonton
Photo: Action from the semi-final game at the 2014 MasterCard Memorial Cup in London, ON on Friday May 23, 2014. Photo by Aaron Bell/CHL Images