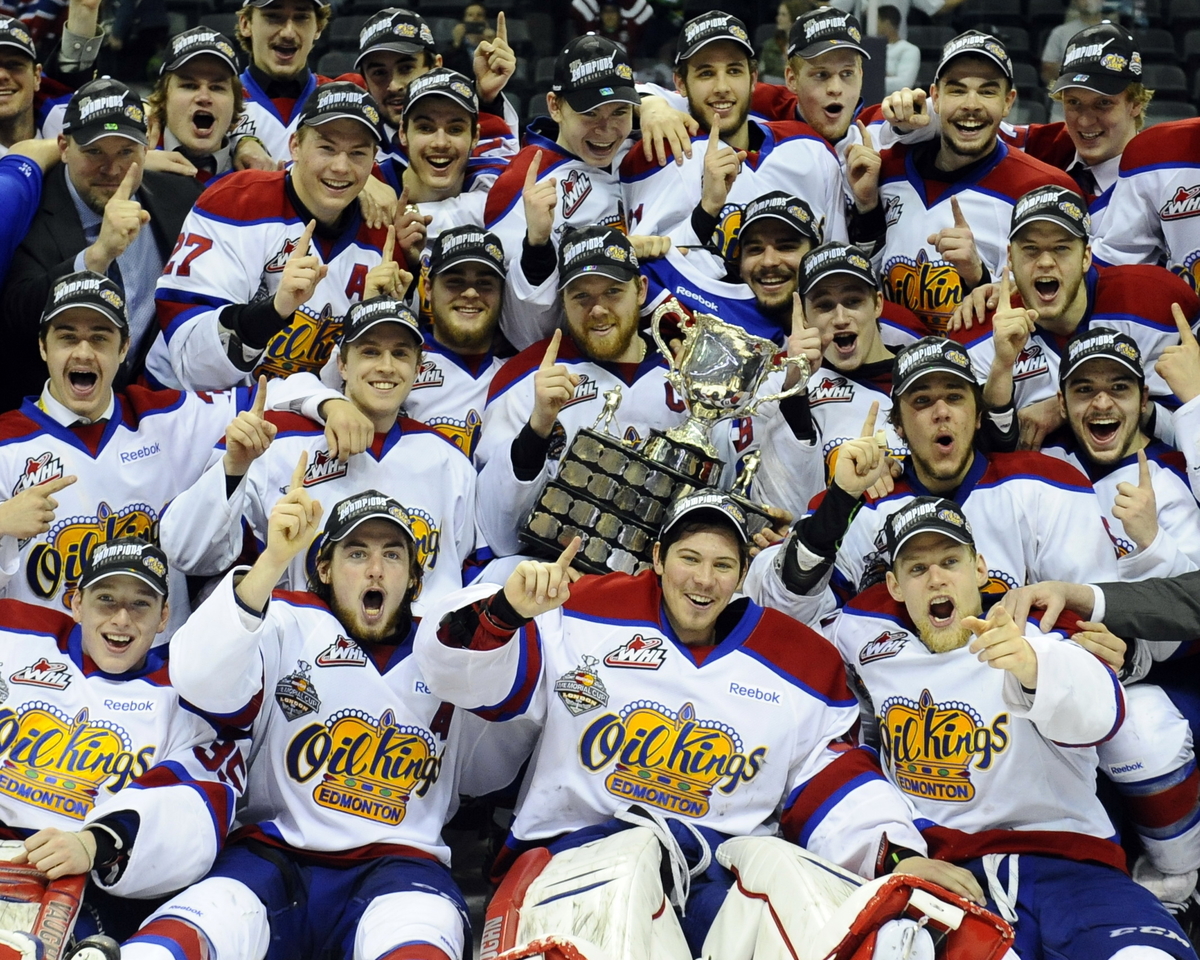 LONDON, ONT. – Disappointing is the only way to describe how the season ended for the Ontario Hockey League's Guelph Storm on Sunday evening.
After winning the regular season title and the J. Ross Robertson Cup as OHL champions, the Storm rolled through the round robin of the 2014 MasterCard Memorial Cup, only to drop a 6-3 decision to the Western League's Edmonton Oil Kings in the championship game.
Storm coach Scott Walker was frank in speaking to the media following the loss.
"It's tough in a one-game series," said Walker. "I don't think we played our best but I'm not going to take anything away from them. They were the better team tonight.
The Storm coach added that he didn't think the extra layoff prior to the final was a major issue.
"You could think about that but not only that," said Walker. "You can talk about the 11 days and four games. There's only so much you can see each other in the hotel. They're just excuses."
Henrik Samuelsson led the way offensively with two goals and three assists in the win. Edgars Kulda added a goal and two assists while Cody Corbett, Tyler Robertson and Mitchell Moroz also scored.
"(This is) a special group of kids," said Oil Kings coach Derek Laxdal. ""To win that Western Hockey League championship in seven (against Portland) when we were the underdogs and to see where we are now is unbelievable."
"What a way to finish the year," Laxdal added.
Laxdal said the Oil Kings were a resilient team in the championship game.
"We found out that we could play with these guys," Laxdal said. "To do what we did, getting down 1-0, Guelph was coming and they were confident. We were resilient. We bent but we didn't break."
Goaltender Tristan Jarry stopped 32 shots.
"The whole tournament we were underdogs and even in the (Western League final) against Portland," said Oil Kings goaltender Tristan Jarry. "Having something like that, we've always been able to overcome it."
Zack Mitchell and Robby Fabbri had a goal and an assist each for the Storm. Kerby Rychel set up two goals while Stephen Pierog also scored. Goaltender Justin Nichols, a former Soo Greyhound, stopped 39 shots.
"This was the best team that I've had and a record-setting team for Guelph," said Walker. "They should be proud."
The tournament win marks the first Memorial Cup title for the Oil Kings in their seven-year history. The Oil Kings did win a Memorial Cup title in 1966. That team eventually relocated to Portland.
The 2015 tournament will be held in Quebec City.
****
ROUND ROBIN STANDINGS
Guelph Storm (OHL): 3-0
Val-d'Or Foreurs (QMJHL): 2-1
Edmonton Oil Kings (WHL) 1-2
London Knights (Host): 0-3
FULL SCHEDULE
Round-Robin Game 1 – May 16: Val-d'Or 1, London 0
Round-Robin Game 2 – May 17: Guelph 5, Edmonton 2
Round-Robin Game 3 – May 18: Edmonton 5, London 2
Round-Robin Game 4 – May 19: Guelph 6, Val-d'Or 3
Round-Robin Game 5 – May 20: Val-d'Or 4, Edmonton 3 (2OT)
Round-Robin Game 6 – May 21: Guelph 7, London 2
Semi-Final – May 23: Edmonton 4, Val-d'Or 3 (3OT)
Championship – May 25: Edmonton 6, Guelph 3
TOURNAMENT AWARDS
Stafford Smythe Memorial Trophy (MVP) – Edgars Kulda (Edmonton Oil Kings)
Hap Emms Memorial Trophy (Outstanding Goaltender) – Antoine Bibeau (Val-d'Or Foreurs)
George Parsons Trophy (Sportsmanship) – Curtis Lazar (Edmonton Oil Kings)
Ed Chynoweth Trophy (Leading Scorer) – Henrik Samuelsson (Edmonton Oil Kings)
All-Star Team
Goaltender – Antoine Bibeau (Val-d'Or Foreurs)
Defenceman – Cody Corbett (Edmonton Oil Kings)
Defenceman – Matt Finn (Guelph Storm)
Forward – Edgars Kulda (Edmonton Oil Kings)
Forward – Kerby Rychel (Guelph Storm)
Forward – Henrik Samuelsson (Edmonton Oil Kings)
Photo: The Edmonton Oil Kings won the 2014 MasterCard Memorial Cup championship in London, ON on Sunday May 25, 2014 with a 6-3 win over the Guelph Storm. Photo by Aaron Bell/CHL Images