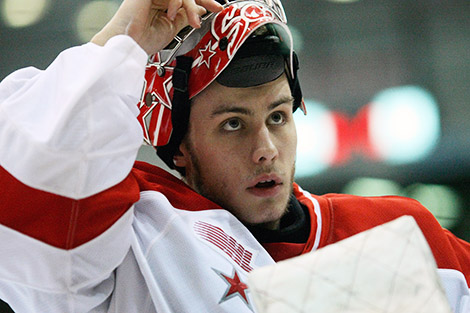 LONDON, ONT - The Ontario Hockey League champions opened their quest for a Memorial Cup title on Saturday evening at Budweiser Gardens in London, Ont.
The Guelph Storm, who primarily built their current roster to put themselves in this position, faced the Western League-champion Edmonton Oil Kings Saturday in the first game of the tournament for both clubs where the Storm would skate away with a 5-2 victory over the Oil Kings
The Storm battled back after the Oil Kings took a 2-1 lead early in the second period with a pair of quick goals.
"I liked the resilience of our bench," said Guelph coach Scott Walker. "We weren't getting frustrated and we were sticking to the game plan. Nobody was slamming doors or breaking sticks. We felt good about that."
After Kerby Rychel scored with five seconds remaining in the opening period, Edmonton scored a pair of goals in the second period before the frame was two minutes old to take a 2-1 lead. Henrik Samuelsson and Ashton Sautner got the Edmonton goals.
The Storm then proceeded to score four unanswered goals to take the lead for good.
"We were really happy with the way we started the (second) period," Samuelsson said. "We got off to a good start but that second goal changed the momentum."
The Storm would get a break to tie the game as Mads Eller's attempt to clear the puck from behind the Edmonton goal would hit Rychel and then deflect in off Edmonton goaltender Tristan Jarry. Brock McGinn would give the Storm a 3-2 lead to close out the second period. At 5:46 of the third period, Tyler Bertuzzi would increase the lead to 4-2 as his wrister from the slot would beat Jarry high glove side.
"The 3-2 goal really hurt us," said Edmonton coach Derek Laxdal. "We got exposed with some of our young defencemen tonight. That's part of the experience of a Memorial Cup.
Bertuzzi capped off the Guelph scoring with his second of the night at 15:49.
Defenceman Nick Ebert chipped in with a pair of assists for the Storm while former Soo Greyhounds goaltender Justin Nichols stopped 37 shots in the win.
"Everybody is going to feel the jitters one way or another (to start the tournament)," Nichols said. "I don't necessarily want to say that I was nervous but I was intrigued by what Edmonton was going to bring and what kind of game we were going to end up playing."
Jarry made 27 saves for the Oil Kings in the loss.
The Oil Kings find themselves right back in action on Sunday night when they face the host-teamn the London Knights.
The Storm will return to action on Monday when they face the Quebec League-champion Val-d'Or Foreurs.

****
STANDINGS
Guelph: 1-0
Val-d'Or: 1-0
London: 0-1
Edmonton: 0-1
FULL SCHEDULE
Round-Robin Game 1 – May 16: Val-d'Or 1, London 0
Round-Robin Game 2 – May 17: Guelph 5, Edmonton 2
Round-Robin Game 3 – May 18: London vs. Edmonton
Round-Robin Game 4 – May 19: Guelph vs. Val-d'Or
Round-Robin Game 5 – May 20: Edmonton vs. Val-d'Or
Round-Robin Game 6 – May 21: London vs. Guelph
Tie-Breaker (if necessary) – May 22
Semi-Final – May 23
Championship Final – May 25
File photo by SooToday.com's Kenneth Armstrong
Check back later tonight for more updates from London