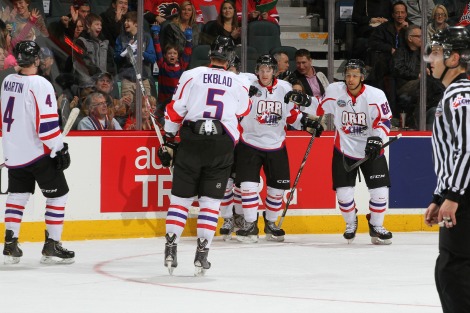 Jared McCann managed to have a major impact on the Canadian Hockey League Top Prospects game, held in Calgary on Wednesday night.
McCann, competing for Team Orr, beat Team Cherry goaltender Alex Nedeljkovic at 16:31 of the third period to give Team Orr a 4-3 win over Team Cherry in the annual contest.
McCann took a pass from Josh Ho-Sang (Windsor – OHL) and beat Nedeljkovic with a wrist shot from the slot blocker side.
The goal came after Nikolay Goldobin (Sarnia – OHL) and Sam Reinhart (Kootenay – WHL), scored third-period goals to pull Team Cherry back from a 3-1 deficit built up by the Orr squad through two periods.
"I definitely haven't at all," McCann told The Canadian Press when asked if he had scored a bigger goal than Wednesday's game-winner. "It's amazing – a little bit of jitters."
"I've got to give all the credit to Josh," McCann also told CP. "He just made an unbelievable pass and I just tried to get it to the net."
Ho-Sang had a goal and an assist in the win for Team Orr while Aaron Ekblad (Barrie – OHL) and Julius Honka (Swift Current – WHL) had two assists each in the win. Blake Clarke (Saginaw – OHL) and Brendan Lemieux (Barrie – OHL) also scored in the win. Goaltender Mason McDonald (Charlottetown – QMJHL) stopped 15 of 16 shots in the first half of the game. Julio Billia (Chicoutimi – QMJHL) stopped 17 of 19 shots the rest of the way.
Reinhart and Goldobin had a goal and an assist each for Team Cherry. Michael Dal Colle (Oshawa – OHL) also scored in the loss. Ty Edmonds (Prince George – WHL) stopped 16 of 17 shots before making way for Nedeljkovic, who stopped 13 of 16 shots in the second hald of the game.
McCann is expected to join the Greyhounds in time for their contest tonight in Windsor against the Spitfires while Ho-Sang is also expected to suit up for the Spitfires.
Photo: Brad Watson