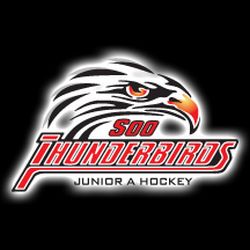 The Soo Thunderbirds extended their winning streak to 15 games on Sunday.
The Thunderbirds wrapped up a three-game road trip with a 4-2 win over the North Bay Trappers in North Bay.
After falling behind 2-0 through one period, the Thunderbirds scored three times in the second period and sealed the win with another goal in the third period.
Gavin Burbach scored a pair of goals for the Thunderbirds in the win.
Darcy Haines and Joey Miller also scored for the Thunderbirds, both in the second period.
Rookie defenceman Owen Headrick set up three goals in the win for the Thunderbirds while goaltender Brian Kment stopped 28 shots.
With the win, the Thunderbirds improved their record to 33-4-0-2 and sit 12 points ahead of the second-place Kirkland Lake Gold Miners. The Gold Miners hold five games in hand on the Thunderbirds with a record of 27-5-0-2
Standings (W-L-T-OTL)
Soo Thunderbirds: 33-4-0-2 (68 points)
Kirkland Lake Gold Miners: 27-5-0-2 (56 points)
Espanola Rivermen: 22-13-0-0 (44 points)
Abitibi Eskimos: 18-14-0-2 (38 points)
Elliot Lake Bobcats: 17-13-0-4 (38 points)
North Bay Trappers: 12-20-0-5 (29 points)
Sudbury Nickel Barons: 9-20-0-6 (24 points)
Blind River Beavers; 5-31-0-2 (12 points)