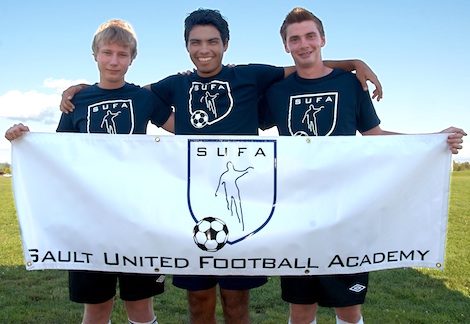 NEWS RELEASE
SAULT UNITED FOOTBALL ACADEMY
*************************
SUFA Academy Players Head to England
The Sault United Football (Soccer) Academy is proud to announce that it has four players heading to England on August 19 as part of a major Academy Team (Bryst Int'l), out of Toronto.
Three of the players (Brett Lewis, Diego Wilhelms and Chris Howe) will play with the U-17 Boys team and a fourth (Taylor Barker) will play with the U-14 Boys team.
They will be travelling to London, England for a week to take part in three exhibition games against Professional Academy teams in London.
In addition they will be attending a professional EPL (English Premier League) game at the Emirates Stadium, home of the Arsenal Football Club.
The teams will be touring London and visiting local landmarks, museums and seeing the sights of the city.
SUFA is very proud of this accomplishment, as it is extremely difficult to make the Bryst Academy teams (Toronto).
This is one of the top academies in Canada.
Players from this academy have gone on to Canada's national teams (men and women).
They have had players sign pro contracts in Europe and have had numerous players receive soccer scholarships in Canada
and the U.S.
SUFA is working as an affiliate of Bryst and has been sending players to train with their program for the past two years.
We are starting to see the rewards of our program and the hard work from our players and coaching staff.
Last year we had two female players (Danielle Febbraro and Jenni Richardson) make the Bryst Women's team.
They participated in a major "Showcase Tournament" in New Jersey where they were exposed to numerous U.S. college and university coaches.
Apart from the obvious benefits from a trip like this (cultural and travel), the players can add this to their soccer resumes.
To have played at the level they will complete at, will add prestige to their profile.
English coaches will also see them and anything is possible. SUFA has a number of other players who are approaching the level these boys have reached and expect to have many more such announcements in the future.
One of our biggest challenges is money, said Academy Director Bill Howe.
Sponsors are needed.
These opportunities are not cheap and we are trying to make these opportunities accessible to all of our players.
SUFA is dedicated to "player development."
Our goal is to develop players to their potential and offer programs to players of both genders from the age of 3 to 18.
A wide variety of programs are available.
Indoor programs including competitive indoor teams and goalkeeping are offered this year.
We are also expanding our "Kix 4 Kids" and "Grass Roots" programs.
To assist our older high school players achieve their goals, we are also offering a "scholarship" program to assist players academically and with their fitness.
We are developing a network of coaches both here in Canada and the U.S.
Three members of the academy staff coach the women's varsity team at Algoma University.
The Algoma Thunderbirds begin competition in the OUA in 2014 and are looking for players!
Information about SUFA programs is available on our
website
.
*************************