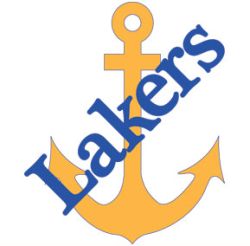 SAULT STE. MARIE, MI. – The Lake Superior State Lakers picked up a weekend split with the University of Michigan over the weekend in Central Collegiate Hockey Association action at Taffy Abel Arena.
Michigan scored a 6-4 win on Friday night over the Lakers before Lake State returned the favour with a 3-2 win on Saturday.
In Michigan's Friday night win, Luke Moffatt and Derek DeBlois scored 19 seconds apart in the first period to open up a quick 2-0 lead. Moffatt finished the night with two goals and an assist in the win. Jacob Trouba, Phil DiGiuseppe and Alex Guptill also scored for the Wolverines. Goaltender Adam Janecyk stopped 29 shots.
"We just played one of our better games," said Michigan coach Red Berenson. "We've had bits and pieces of good games. We haven't had a good first period lately and that was our best first period in probably a month (tonight). We played pretty good after that. We held the storm in the second period. We got the goals that we needed. We have to be better defensively and we can't give up (33) shots but we got through it."
Andrew Pearrault and Eric Drapluk had a goal and an assist for the Lakers on Friday. Bryce Schmitt and Domenic Monardo also scored. Kevin Kapalka stopped 40 shots in the loss.
"We got outworked right from the drop of the puck," said Roque after Friday's loss. "We lost a lot of faceoffs and got outshot. (Michigan) played way more desperate than we did. We played behind the eight-ball. If we hadn't got a couple of gifts from their goalie (Janecyk) we could easily have gotten beat 6-1 here tonight."
The Lakers rebounded with a better effort on Saturday and were rewarded with the split.
"We knew (Lake State) would push back," said Berenson after Saturday's game. "If you're the home team and you get beat the first night, you're going to push back. You have to be a good team to come in and sweep. We thought we could do it but came up short."
Monardo was in on all three goals on Saturday for the Lakers, scoring twice and picking up an assist.
"Most good leaders are the guys that go out and get it done," said Roque on Saturday. "Dom got it done tonight. He had a couple of goals and made the play on the other goal. Talk is talk but sometimes you have to walk it too and he did a great job tonight. He played his heart out."
Lakers goaltender Kevin Murdock stopped 35 shots in Saturday's win.
"He made a great save on one of the power plays on a shorthanded chance and he has to do that type of thing but we did a better job around him than we did for (Kevin) Kapalka (Friday) night," said Roque. "We were much tougher and we battled harder in front of the net. We protected the net a lot better for him."
Janecyk stopped 35 shots for Michigan on Saturday. Cristoval Nieves and A.J. Treais scored for the Wolverines.
"I give our team credit," said Berenson. "They had probably their best weekend of the year in terms of their work ethic and their commitment to playing the way they need to play. We had a good result (Friday) and a not-so-good result (Saturday). It's too bad that everything is based on results. Our team laid it on the line but it wasn't good enough tonight."
The Lakers are on the road next weekend as they take an 8-9-1-1 conference record (13-12-1 overall) to Ohio State. Michigan (5-11-2-2 CCHA, 8-14-2 overall) is also on the road as they are at Western Michigan.