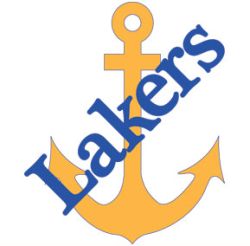 SAULT STE. MARIE, MICH. – The Lake Superior State Lakers picked up a weekend split as they hosted the Ferris State Bulldogs in Central Collegiate Hockey Association action.
The Lakers beat Ferris State 4-1 on Friday night before dropping a 2-1 decision on Saturday.
On Friday night, the Lakers fell behind 1-0 in the second period before scoring three times in the final minute of the period to build a 3-1 lead en route to the victory.
Buddy Robinson scored a pair of goals, 44 seconds apart while Kellan Lain also s cored in the frame to help pace the Lakers. Nick McParland also scored in Friday's win while goaltender Kevin Murdoch stopped 31 shots.
Justin DeMartino scored the lone goal for Ferris State in Friday's loss. CJ Motte stopped 23 shots.
"It was a pretty even hockey game and obviously we had a really great minute there," said Lakers coach Jim Roque after Friday's win. "That was probably the only difference in the game really. (Ferris State) had some good chances. It was pretty up-and-down. We had the fortunate minute there and we rode that home."
Said Bulldogs coach Bob Daniels on Friday: "I thought we played well enough that we could have won but maybe not well enough to guarantee a win," said Daniels. "It was a pretty even game. The one thing I can point to is the last 59 seconds of the second. Outside of that, if you can take that minute away, we were fine."
On Saturday night Motte stopped 43 shots as Ferris State rebounded for a 2-1 win. DeMartino and Cory Kane scored in the win.
"(Friday) we had the one-goal lead and gave up the three goals and I hate to say that it was in the back of my mind," said Daniels. "So I never really felt too comfortable."
"I thought it was a lot like yesterday (Friday) in that either team could have won," Daniels added. "CJ played terrific in net tonight. I'm pretty happy that we were able to bounce back and get a split. For us, that's the first win on a Saturday night that we've had this year and the first win on the road so it was a lot of firsts that we needed to conquer."
Zach Sternberg scored for the Lakers on Saturday while Murdoch stopped 26 shots.
"That was our best game of the year right there," said Roque. "I had no complaints with the effort for three periods. We were good defensively and had chances (offensively). Our power play moved the puck well and got it to the net."
The Lakers (5-5-0, 3-3-0 CCHA record) continue their homestand next weekend when they host Alabama-Huntsville.