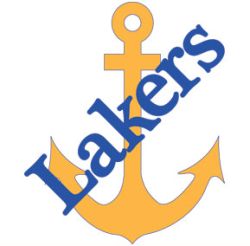 SAULT STE. MARIE, MI. – The Lake Superior State Lakers hockey team opened up the second half of their schedule over the weekend with non-conference action against No. 13 Union College.
The games marked the first time the two schools had met since 2009 when they faced off in the RPI Invitational where they skated to a 0-0 tie.
The Lakers picked up a pair of wins over the Eastern Collegiate Athletic Conference opponent, winning 4-1 on Friday night and completing the sweep on Saturday with a 3-1 win.
On Friday night, Buddy Robinson, Nick McParland and Domenic Monardo had a goal and an assist each in the Laker victory.
Goaltender Kevin Kapalka stopped 22 shots in the win.
"For our first game back you don't know what to expect taking three weeks off but we got good goaltending and some good bounces," Lakers coach Jim Roque said Friday night. "It was a really even hockey game. They had some good chances. There weren't a lot of good chances either way but we capitalized on ours and they didn't on theirs."
Matt Wilkins had the lone goal for Union on Friday. Goaltender Troy Grosenick stopped 23 shots.
"Give Lake State a ton of credit, they played a heck of a hockey game (Friday)," said Union coach Rick Bennett. "They've beat some very good teams in college hockey and they're a very good team. I don't know what we expected. I don't know what our guys thought. I thought we were really prepared tonight but so be it. That's why we play back-to-back."
On SaturdayKevin Murdock stopped 28 shots for the Lakers in the 3-1 win. Robinson, Monardo and Andrew Dommett scored in the win.
"I'm not sure that we're two games better than Union, we just made a couple more plays than they did," said Roque. "We got a great shorthanded goal by Buddy tonight. We got a huge power play goal in the third period to make it 2-1."
Daniel Ciampini scored for Union on Saturday night. Colin Stevens got the start and stopped 26 shots in the loss.
"It was one of those road trips where sometimes you're just not going to find the back of the net," said union coach Rick Bennett. "We didn't have any 'pack of wolves' goals around their net that you have to battle for. (Lake State) did a great job. They had a power play goal, a shorthanded goal and had seven goals this weekend. We only had two. You're not going to win a series like that."
Thanks to the sweep, the Lakers have now won five-straight games, the first time they have had a winning streak that long since winning six straight between Dec. 4, 2009 and Jan. 3, 2010
Both teams return to action next weekend in their respective league play. Lake State (12-10-0-0: 7-7-0 CCHA) faces Central Collegiate Hockey Association rival Western Michigan on the road. Union (9-6-4: 3-2-3 ECAC) returns to Eastern Collegiate Athletic Conference action next weekend with road games against Princeton and Quinnipac.