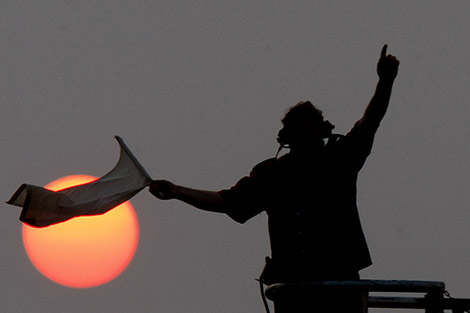 He's spent many years around Laird International Raceway and for Super Late Model driver Keith King, things have settled in nicely in recent weeks.
On Thursday night, the veteran driver picked up his second consecutive feature win and continues to sit atop the Super Late Model point standings, ahead of Justin Jones.
"In the heat race, we were really loose coming out of the corners so we made a few adjustments and it seemed to work," King said of the win. "We really tightened up in the corner and I guess we were up by half the track so it feels good. That's two weeks in a row."
King now holds a 29-point lead in the Super Late Model points standings after a night that saw him also finish second in the heat race.
Jay Palumbo finished second in the Super Late Model feature while Jones finished third.
In the Laird Modified division, Keenan Spurway settled in and took the feature win. Jones, who does double duty by driving both in the Laird Modified and Super Late Model divisions, finished second and Kevin Oicle finished third.
"We changed the setup of the car and branched off of the traditional setup," Spurway said in his post-feature interview on the track. "(Our pit crew) did an amazing job to stick with it and get things figured out."
In the 30-Lap Factory Stock feature, Jason Praysner beat out JP DelPaggio for the win while Jarrit Varcoe took third.
The Factory Four feature saw Corey Carbone take the win. Brent Fewchuk was second and his sister Rebecca took third.
A small car count saw just two drivers compete in the Xtreme Four division as Jamie Wilson beat Chase Wilson for the feature win.
Action continues on July 31 with qualifying at 6:15 p.m. and racing beginning at 7:15 p.m.
****
HEAT RACES
Factory Four A Heat – John Robinson
Factory Four B Heat – Jacob Heimonen
Xtreme Four – Jamie Wilson
Laird Modified – Keenan Spurway
Outlaw Modified – N/A
Factory Stock – JP DelPaggio
Super Late Model – Dan Byrnes
****
QUALIFYING
Factory Four – Corey Carbone (17.876)
Xtreme Four – Jamie Wilson (17.876)
Laird Modified – Keenan Spurway (14.799)
Outlaw Modified – N/A
Factory Stock – Jason Praysner (15.917)
Super Late Model – Justin Jones (14.482)
With files from Sadie Janes
(PHOTO: The white flag is waved as the sun sets at Laird International Raceway on July 24, 2014. SooToday.com/Kenneth Armstrong)
For video highlights from Thursday's action, click here