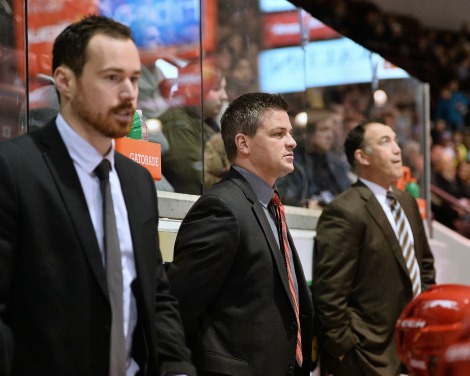 In addition to announcing Kyle Raftis as their new general manager on Tuesday, the Soo Greyhounds also announced that coach Sheldon Keefe has agreed to a contract extension with the club.
With one year left on his current deal, Keefe has agreed to a two-year extension with the team that includes a club option for a third that will take him through the 2016-17 season.
"It's a big deal probably for more my family than anything," Keefe said.
The extension was something that had been discussed with former Greyhounds General Manager Kyle Dubas prior to his departure for the Toronto Maple Leafs.
"I'm happy with it obviously," Keefe said. "It's not something that I was thinking a lot about frankly. I was comfortable coaching the final year of my deal. Kyle Dubas and I has some preliminary discussions earlier in the summer about an extension but with his departure, there was some uncertainty in the organization."
Keefe added he was appreciative of the team board of directors for "making it clear to me that they wanted me to be a part of things." It was then that discussion of an extension began to take off.
Keefe is looking forward to working with new General Manager Kyle Raftis.
"I got a sense of his demeanour through that process," Keefe said. "We've spent some significant time together both here and on the phone during this whole process. I'm very comfortable with him and I think he's going to be able to step in and still allow people to do their jobs and be comfortable doing so."
Under Keefe's guidance, the Greyhounds have posted a 67-29-3-8 record since he joind the club in December 2012.
Photo: Terry Wilson/OHL Images