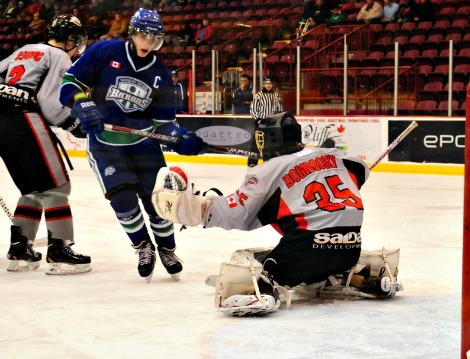 The Soo Thunderbirds and Soo Eagles found themselves in action on home ice over the weekend.
The Thunderbirds wrapped up the home portion of their Northern Ontario Junior Hockey League schedule with games against the Abitibi Eskimos and Sudbury Nickel Barons.
The Thunderbirds beat Abitibi 6-1 on Saturday night to open the homestand. Dallas McLaughlin had a goal and two assists in the win for the Thunderbirds. Joey Miller, Dan Pyymaki, and Adam Ritchie had a goal and an assist each in the win. Nicholas Pastorious and Gavin Burbach also scored in the win.
Nick Fountain had the lone goal for Abitibi.
On Sunday, the Thunderbirds got a three-goal performance from Anthony Butorac en route to a 7-3 win over the Sudbury Nickel Barons. McLaughlin, Ritchie and Derek Battagin had a goal and an assist each for the Thunderbirds. Brandon Warmington also scored in the win. Pyymakis set up three goals Pastorious and Anthony Miller chipped in with two assists each in the win. Steven Dombrowski stopped 33 shots.
Giovanni Foschia, Martin Jolicoeur and Bradley Bell scored for Sudbury in the loss.
Earlier in the week, the Thunderbirds handed out their team awards. Winners included:
Most Sportsmanlike - David Radke
Top Scorer - Darcy Casola
Hardest Worker - Anthony Butorac
Rookie of the Year - Joel Horodziejczyk
Scholastic Payer - David Radke
Most Improved - Michael Caruso
Best Defenseman - Jeremy Solomon
MVP - Adam Ritchie
Player's Player - Darcy Casola
Ted Brooks Memorial Award (Player Excellence in Community Involvement) - Anthony and Joey Miller
The Thunderbirds wrap up their regular season schedule on Mar. 10 when they travel to Blind River to take on the Beavers.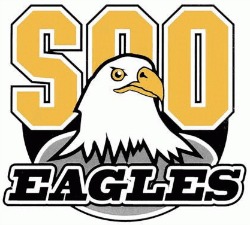 The Soo Eagles continued their North American Hockey League schedule with a weekend sweep of Janesville at Pullar Stadium.
On Friday night, Brandon Adams scored a pair of goals and set up another to lead the Eagles to a 6-1 win. Pat Thompson, Mike Sabatini, Robin Hoglund and Matt Menta added a goal and an assist each in the win. Goaltender Tyler Marble stopped 35 shots.
Daniel Kucerovy scored the lone goal for Janesville in the loss.
On Saturday night, Marble stopped all 26 shots he faced as the Eagles wrapped up the weekend sweep with a 2-0 win. Sabatini had a goal and an assist. Jared VanWormer also scored in the win.
Goaltender Brock Kautz stopped 43 shots for Janesville.
Next up for the Eagles is a pair of road games against Port Huron beginning on Mar. 15.
Photo courtesy JIm Egan