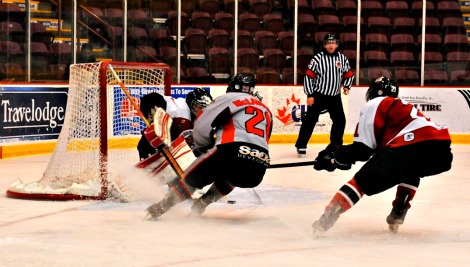 The Soo Thunderbird of the Northern Ontario Junior Hockey League and the North American Hockey League's Soo (Mich.) Eagles
The Thunderbirds opened the weekend on Saturday night with a 5-3 loss to the Sudbury Nickel Barons. Alexander Laino stopped 33 shots for the Barons in the win. Offensively, Sebastien Leroux and Martin Jolicoeur had a goal and two assists each for Sudbury. Darcy Haines and Bradley Bell added a goal and an assist each in the win. Giovanni Foschia also scored for Sudbury.
Grant Syrette and Dallas McLaughlin scored for the Thunderbirds in the loss.
On Sunday evening, the Thunderbirds rebounded with a 10-1 win over Blind River. Brandon Warmington led the way for the Thunderbirds with a goal and four assists in the win. Anthony Miller and Gavin Burbach added two goals and an assist in the win. Joey Miller, Yan Kalashnikov, Grant Syrette, Michael Caruso and Tyler Sehovic also scored in the win. Steven Dombrowski stopped 20 shots for the Thunderbirds.
Tyson MacLeod scored the lone goal for Blind River.
The Thunderbirds return to action on Mar. 6 when they travel to Sudbury to take on the Nickel Barons.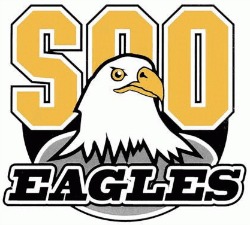 The Eagles picked up a weekend split in Springfield, Il against the Jr. Blues.
The Jr. Blues opened the weekend on Friday night with a 7-1 win over the Eagles. Ryan Atkinson scored a pair of goals for Springfield in the win. Terry Leabo chipped in with three assists. Micah Ranum, Nate Chasteen, Devin Mitchell, Brett Skibba and Tom Cooney also scored for Springfield in the win. Jared VanWormer scored the lone goal for the Eagles in the loss.
On Saturday night, Eagles goaltender Tyler Marble stopped 51 shots to lead the Eagles to victory. Offensively, VanWormer had two goals and two assists in the win. Sean Murphy added three goals and an assist. Brandon Adams had a goal and an assist for the Eagles.
Skibba had two goals and two assists for Springfield. Chasteen, Mike Severson and Jeff McFarland also scored in the loss.
Next up for the Eagles is a pair of road games at Kalamazoo next weekend.
Photo courtesy Jim Egan