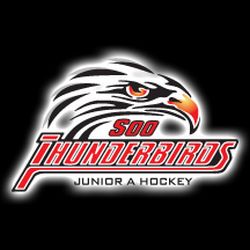 It was a busy weekend for both the Northern Ontario Hockey League's Soo Thunderbirds and the North American Hockey League's Soo (Mi.) Eagles.
The Thunderbirds were in Spooner, Wisc. to take part in the Superior-Northern Showdown which also featured the NOJHL's Elliot Lake Bobcats as well as the Fort Frances Lakers and Minnesota Wilderness of the Superior International League.
The Thunderbirds picked up a win and a loss in the showdown, beating Fort Frances on Friday 7-2 before dropping a 3-1 decision to Minnesota on Saturday.
In Friday's game Brandon Warmington and Yan Kalashnikov each had a pair of goals for the Thunderbirds in their win over Fort Frances. Joey Miller chipped in with a goal and an assist. Dan Pyymaki and Tyler Jones also scored. Goaltender Brian Kment, up from the Great North Midget League's Soo North Stars, stopped 26 shots in the win.
Kevin Krum had the lone goal for Fort Frances. Goaltender Jameson Shortreed stopped 31 shots.
On Saturday, Joel Horodziejczyk stopped 42 shots in the 3-1 loss against Minnesota. Kalashnikov had the lone goal for the Thunderbirds. Danny Bartowiack, Peter Barral and Jeremy Johnson scored for Minnesota.
Elliot Lake dropped both games in the showdown. Bobcats goaltender Thomas Graham stopped 52 shots in their opening game, a 6-0 loss to Fort Frances. Colton Spicer had a goal and two assists for Fort Frances.
Elliot Lake dropped their second game, 5-1 to Minnesota. Despite the loss, Graham turned in another stellar performance, stopping 54 shots. Tyler Newsome had the Bobcats lone goal. Johnson had a goal and an assist for Minnesota.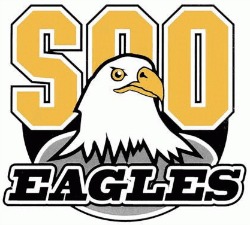 The Eagles played a pair of home games in NAHL action against the Kalamazoo K-Wings at Pullar Stadium.
Game one saw the Eagles pick up a 6-2 win. Eric Rivard had a goal and two assists for the Eagles in the win. Brandon Adams had a goal and an assist for the Eagles. Cody VonRuden and Sean Murphy added two assists each. Michael Covach (penalty shot) and Jared VanWormer also scored.
Taylor Burden and former Eagle Robbie Payne had a goal and an assist each for Kalamazoo in Friday's loss.
On Saturday night, Alex Taulien had a goal and three assists for the Eagles in a 6-5 win. Adams added three goals while VanWormer had three assists. Rivard also had a three-point night with a goal and two assists. Michael Crowley had the other Eagles goal.
Payne led the way for Kalamazoo in Saturday's game with three goals. Burden and Brett Beauvais had three assists each. Patrick Spellacy and Luc Boby had the other goals for Kalamazoo.