The Soo Thunderbirds and Soo Eagles both found themselves in action over the weekend as their respective regular seasons wind down.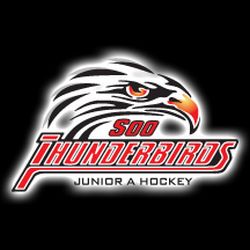 The Thunderbirds picked up an overtime win over the Kirkland Lake Gold Miners on Friday night at the Essar Centre in Northern Ontario Junior Hockey League action while the Eagles swept Port Huron in North American Hockey League action.
For the Thunderbirds, Gavin Burbach had a goal and an assist in a 2-1 win over Kirkland Lake. Burbach tied the game at one in the third period before helping set up the overtime winner, scored by rookie defenceman Michael Caruso scored in the first minute of the extra frame. Goaltender Steven Dombroski stopped 17 shots in the win.
Tanner Lafrance scored the lone goal for Kirkland Lake in the loss. Goaltender Chris Komma stopped 21 Thunderbirds shots.
Following weekend action, the Thunderbirds sit tied atop the NOJHL standings with the North Bay Trappers. The Trappers hold a game in hand.
Next action for the Thunderbirds is Feb. 23 against the Sudbury Nickel Capital Wolves at the Essar Centre. The following night the Thunderbirds host the Blind River Beavers.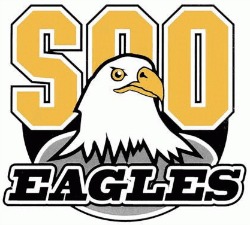 At Pullar Stadium in Sault, Mich., the Eagles scored a pair of wins over Port Huron by scored of 3-2.
On Friday night, Eric Rivard's goal in the opening minute of the third period held up as the winner for the Eagles. Rivard had a pair of goals in the game while Robin Hoglund added a goal and an assist. Kyle Froese added two assists for the Eagles. Goaltender Tyler Marble stopped 52 shots in the win.
Brett D'Andrea and Mick Bruce scored for Port Huron in Friday's loss.
On Saturday night, Hoglund scored the shootout winner for the Eagles in a 3-2 win. Sean Murphy and Matt Menta scored in regulation time for the Eagles. Goaltender Paige Skoog stopped 40 shots.
Alex Blankenburg stopped 37 shots for Port Huron in the loss. Tyler Spezia and Dan Dupell scored in the loss.
The Eagles travel to Springfield next weekend to begin a stretch of four straight on the road.