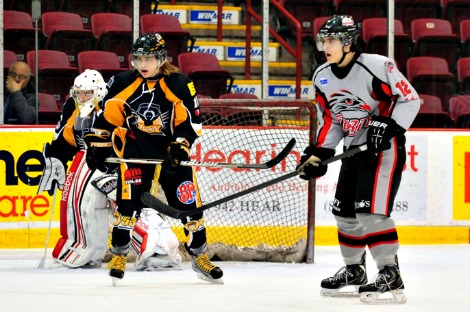 The Northern Ontario Junior Hockey League's Soo Thunderbirds and North American Hockey League's Soo Eagles both saw action on home ice as they battle for top spot in their respected leagues.
The Thunderbirds, with GM Kevin Cain taking over the coaching reins from former coach Warren LaVoy, picked up a 7-4 win on Sunday afternoon at the Essar Centre over the Abitibi Eskimos.
The win keeps the Thunderbirds two points ahead of the North Bay Trappers in the NOJHL standings though the Trappers hold three games in hand.
Darcy Casola had three goals and an assist for the Thunderbirds in Sunday's win. Dallas McLaughlin added two goals and two assists for the locals. Anthony Butorac had a goal and an assist while Matthew Zalewski also scored.
Thunderbirds goaltender Steven Dombrowski stopped 20 shots in the win.
Peter Poulin-Roy and Ryan Tront had a goal and an assist each for Abitibi in the loss. Zach Innes assisted on a pair of goals for Abitibi. Daniel Villeneuve and Aaron Kerr also scored.
Abitibi goaltender Jeremy Laux stopped 38 shots in the loss.
The Thunderbirds are back in action on Feb. 15 when they host the Kirkland Lake Gold Miners in a 7:30 p.m. start at the Essar Centre.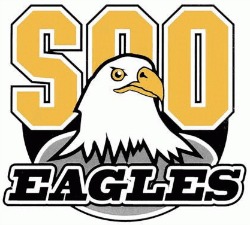 As they look to hold onto top spot in the NAHL's North Division, the Eagles split a pair of home games at Pullar Stadium with the Jamestown Ironmen.
On Friday night, Aaron Scheppelman scored with 4.9 seconds remaining in regulation time to give the Ironmen a 3-2 victory. Daniel Cesarz scored a goal and added an assist for the Ironmen in the win. Tyler Dunagan added a pair of assists. Dylan Zink also scored for Jamestown. Goaltender Joe Ballmer stopped 42 shots in the win.
Chris Waterstreet and Sean Murphy scored for the Eagles in Friday's loss. Goaltender Tyler Marble stopped 42 shots as well.
On Saturday, Marble stopped 46 shots as the Eagles rebounded for a 5-1 win. Waterstreet scored a pair of goals for the Eagles in the win. Eric Rivard added a goal and an assist while Alexander Taulien assisted on a pair of goals in the win. Jared VanWormer and Michael Crowley also scored for the Eagles.
Luc Gerdes had the lone goal for the Ironmen in Sunday's loss. Ballmer stopped 31 shots.
The Eagles continue a four-game homestand next weekend when they host Port Huron on Friday and Saturday nights. Start time both nights is 7:30 p.m.
Thunderbirds photo courtesy Jim Egan