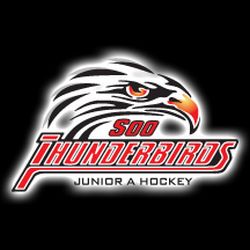 On Saturday night, Brandon Warmington scored twice and set up two more goals as the Soo Thunderbirds beat the Blind River Beavers 9-1 in Northern Ontario Junior Hockey League action.
Anthony Miller and Darcy Casola had two goals and an assist each in the win for the Thunderbirds. Matthew Zalewski also scored twice for the Thunderbirds in the win. Nicholas Pastorious had the other goal for the Thunderbirds.
Derek Battagin, Yan Kalashnikov and Gavin Burbach each chipped in two assists in the win.
Thunderbirds goaltender Joel Horodziejczyk stopped 30 shots.
Tyler Brown had the lone goal for the Beavers in the loss. Goaltender Joseph Lynch stopped 13 of 17 shots in the first period before making way for Brock Crossthwaite, who stopped 33 of 38 shots in the final two periods.
With the win, the Thunderbirds improve to 24-6-3-3 and remain in top spot in the NOJHL standings, two points ahead of the North Bay Trappers. The Trappers are 23-6-3-3 and hold a game in hand on the Thunderbirds.
Next up for the Thunderbirds are a pair of games in Elliot Lake against the Bobcats. The Thunderbirds travel to Elliot Lake for games on Jan. 30 and Feb. 1.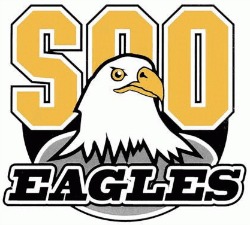 In Sault, Mich. the Sault Eagles continued North American Hockey League action with a win and a shootout loss against the Johnstown Tomahawks.
On Friday night, Jared VanWormer and Chris Waterstreet had two goals each as the Eagles picked up a 5-2 win. Alexander Taulien had a goal and two assists in the win. Goaltender Tyler Marble stopped 38 shots. Cody Gyling had a goal and an assist while Mitch Kotny had the other Johnstown goal. Former Eagles goaltender Chris Truehl stopped 34 shots.
On Saturday night, Andrew McDonald had the shootout winner as Johnstown picked up a 5-4 win. Gyling had two goals and an assist in the win. Kotny added three assists. Mitch Hall and Connor Wright had the other goals for Johnstown. Truehl entered the game for the shootout, stopping two of the four shooters he faced. Colin Brennan got the start and stopped 31 shots. Brandon Adams had a pair of goals for the Eagles in the loss. Sean Murphy added a goal and an assist while Taulien also scored. Zach Nagelvoort got the start and made 37 saves before making way for Marble after the fourth Tomahawks goal. Marble came in and stopped five shots the rest of the way before stopping just one of five Johnstown shooters in the shootout.
The Eagles hit the road for a three-game road trip that will take them to Jamestown on Thursday and Friday before a single game in Johnstown on Saturday.