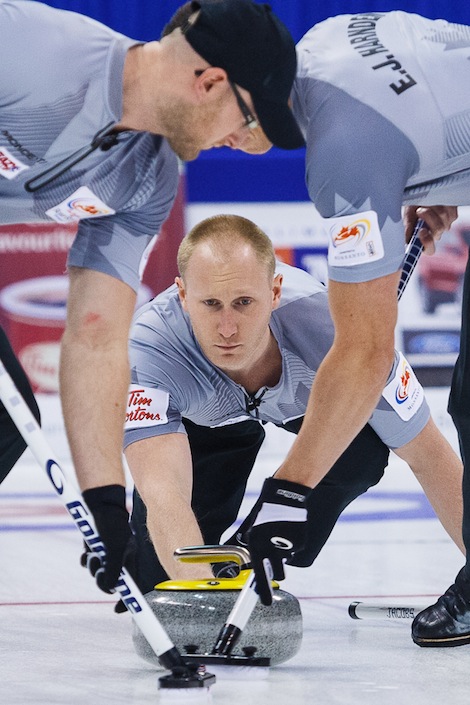 Brad Jacobs and his team from Sault Ste. Marie opened the 2014 Olympics early Monday morning on a winning note.
Jacobs, third Ryan Fry, second E.J. Harnden and lead Ryan Harnden, began their quest for Olympic gold with an 1108 victory over Germany's John Jahr.
The see-saw match saw Jacobs seal the win by scoring two in the tenth end while leading 9-8.
The Canadian team opened up a quick 2-0 lead in the first end only to see Germany tie the game with two of their own in the second end and then take the lead thanks to a steal of two in the third end to take a 4-2 lead.
Jacobs proceeded to score three in the fourth end along with two more in the fifth to take a 7-4 lead.
After giving up one in the sixth end, Jacobs went up 9-5 thanks to a pair in the seventh end.
Jahr scored one in the eighth and stole two in the ninth to make the game close before Jacobs sealed the win in the tenth end.
The win improves Jacobs record this year when he begins a game with the hammer to 32-5 overall.
In other opening matches in men's curling early Monday morning, Great Britain defeated the host Russians 7-4, Sweden beat Switzerland 7-5 and China beat Denmark 7-4.
The Jacobs rink will face Switzerland in the second men's draw on Monday.
Full Jacobs Schedule
Feb. 10 vs. Germany (W 11-8); vs. Switzerland (10 a.m. ET)
Feb. 11 vs. Sweden (5 a.m. ET)
Feb. 12 vs. Russia (10 a.m. ET)
Feb. 13 vs. Denmark (5 a.m. ET)
Feb. 14 vs. Norway (12 a.m. ET)
Feb. 15 vs. Great Britain (5 a.m. ET)
Feb. 16 vs. USA (12 a.m. ET); vs China (10 a.m. ET)
Feb. 19 Semi-Final (10 a.m. ET)
Feb. 21 Bronze Medal Game (3:30 a.m. ET); Gold Medal Game (8:30 a.m. ET)
Standings
Canada (Brad Jacobs): 1-0
China (Rui Liu): 1-0
Sweden (Niklas Edin): 1-0
Great Britain (David Murdoch): 1-0
United States (John Shuster): 0-0
Norway (Thomas Ulsrud): 0-0
Russia (Andrey Drozdov): 0-1
Switzerland (Sven Michel): 0-1
Germany (John Jahr): 0-1
Denmark (Rasmus Stjerne): 0-1
File Photo