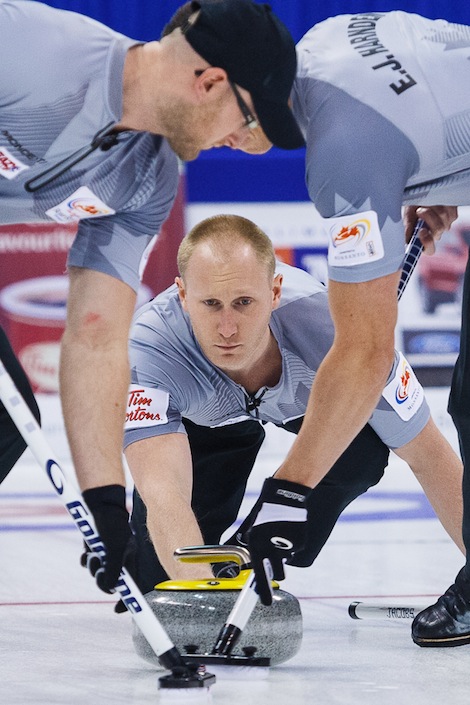 Brad Jacobs continues to roll at the 2014 Winter Olympics in Sochi, Russia.
Jacobs, with teammates third Ryan Fry. second E.J. Harnden and lead Ryan Harnden, improved to 5-2 on Saturday with a 7-5 win over Great Britain's David Murdoch.
A steal of one in the tenth end sealed the win for Jacobs as Murdoch attempted to remove a pair of Jacobs rocks with his final stone but saw the shot overcurl and was only able to remove one. The Murdoch rock came to rest and Jacobs wound up taking the point and the match.
The loss dropped Murdoch's record to 5-2 as well, leading the Great Britain team in a second-place tie with Team Canada. China and Sweden sit atop the standings with identical 6-1 records after Saturday's men's action.
After Saturday's action, the Jacobs rink sits in a good position in the standings heading into the final two days of round robin action. Norway's Thomas Ulsrud was the lone team not in action on Saturday and they sit at 3-3
The Jacobs rink has a pair of games remaining on their round robin schedule, both on Sunday, as they face Team USA (12 a.m. ET) and China (10 a.m. ET)
Other games on the men's side on Saturday saw Sweden improve to 6-1 thanks to an 8-4 win over Germany. Switzerland beat Denmark 9-3 and China beat Russia 9-6.
Full Jacobs Schedule
Feb. 10 vs. Germany (W 11-8); vs. Switzerland (L 5-4)
Feb. 11 vs. Sweden (L 7-6)
Feb. 12 vs. Russia (W 7-4)
Feb. 13 vs. Denmark (W 7-6)
Feb. 14 vs. Norway (W 10-4)
Feb. 15 vs. Great Britain (W 7-5)
Feb. 16 vs. USA (12 a.m. ET); vs China (10 a.m. ET)
Feb. 19 Semi-Final (10 a.m. ET)
Feb. 21 Bronze Medal Game (3:30 a.m. ET); Gold Medal Game (8:30 a.m. ET)
Standings
Sweden (Niklas Edin): 6-1
China (Rui Liu): 6-1
Great Britain (David Murdoch): 5-2
Canada (Brad Jacobs): 5-2
Norway (Thomas Ulsrud): 3-3
Denmark (Rasmus Stjerne): 2-5
United States (John Shuster): 2-4
Switzerland (Sven Michel): 2-5
Russia (Andrey Drozdov): 2-5
Germany (John Jahr): 1-6