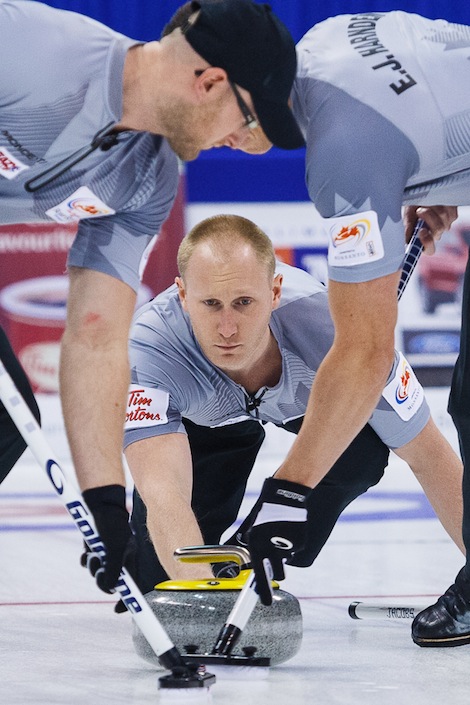 Brad Jacobs and his Canadian team will play for gold at the 2014 Winter Olympics in Sochi, Russia.
With a 10-6 win over China's Rui Liu today, Jacobs will play for gold in men's curling along with teammates Ryan Fry (third), E.J. Harnden (second) and Ryan Harnden (lead) along with alternate Caleb Flaxey.
Jacobs will be looking to become the third-straight Canadian skip to win gold after Kevin Martin in 2010 in Vancouver and Brad Gushue in 2006 in Torino, Italy.
Jacobs took control of the game in the ninth end, scoring three to go up 10-6 before running Liu out of rocks in the final end to win.
Jacobs will face Great Britain's David Murdoch in the final. Murdoch defeated Sweden's Niklas Edin 6-5 in the other semi-final. Edin will face Liu for bronze
Murdoch drew to score a pair in the tenth end to beat Edin and advance.
The Gold Medal Game is Friday morning at 8:30 a.m. The Bronze Medal game is set for 3:30 a.m., also on Friday morning.
On the women's side, Canada's Jennifer Jones and her Winnipeg-based rink defeated Great Britain's Eve Muirhead 6-4 in their semi-final to advance to the gold medal game. They will face Sweden's Magaretha Sigfridsson Thursday morning at 8:30 a.m. in the final. Sweden beat Switzerland's Mirjam Ott 7-5 in the other semi-final. Ott and Miuhead will play for bronze.
Full Jacobs Schedule
Feb. 10 vs. Germany (W 11-8); vs. Switzerland (L 5-4)
Feb. 11 vs. Sweden (L 7-6)
Feb. 12 vs. Russia (W 7-4)
Feb. 13 vs. Denmark (W 7-6)
Feb. 14 vs. Norway (W 10-4)
Feb. 15 vs. Great Britain (W 7-5)
Feb. 19 Semi-Final vs China (W 10-6)
Feb. 21 Gold Medal Game vs. Great Britain (8:30 a.m. ET)
Round Robin Standings
Sweden (Niklas Edin): 8-1
China (Rui Liu): 6-2
Canada (Brad Jacobs): 7-2
Great Britain (David Murdoch): 5-3
Norway (Thomas Ulsrud): 5-3
Denmark (Rasmus Stjerne): 3-5
United States (John Shuster): 2-6
Switzerland (Sven Michel): 2-6
Russia (Andrey Drozdov): 2-6
Germany (John Jahr): 1-7