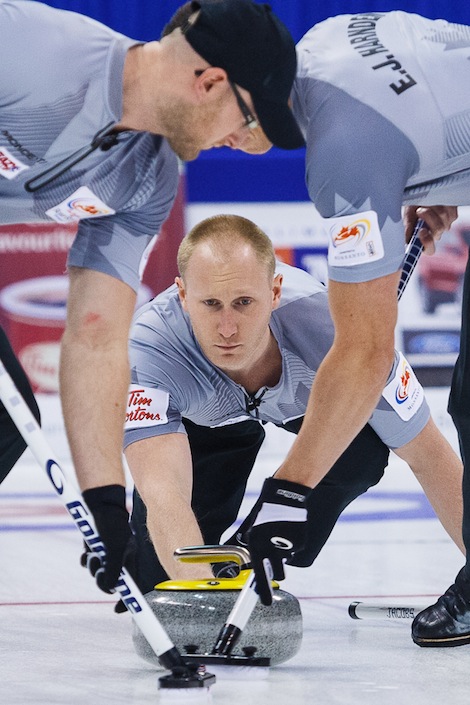 As Sault Ste. Marie preps for about three hours of shutdown on Friday morning beginning around 8:30, a Sault product could continue a pretty successful period for Canadian athletes at the Winter Olympics in Sochi, Russia.
With Brad Jacobs curling for a gold medal against Great Britain's David Murdoch on Friday morning, the team could give Canada its third gold medal in two days thanks to a pair of gold medals on Thursday.
Following their semi-final 10-6 win over China, the Jacobs rink will face a Great Britain team skipped by David Murdoch, who beat Sweden's Niklas Edin in the other semi-final. Jacobs scored in the ninth end before picking up a steal of one in the tenth end in a 7-5 round robin win over Murdoch.
Regardless of the outcome, Jacobs will add to Caanda's medal haul of late.
Jennifer Jones and her Canadian women's curling team picked up gold by beating Sweden on Thursday 6-3 to complete the tournament without a loss in 11 games.
In women's hockey, Canada's Marie-Phillipe Poulin scored the overtime winner 8:10 into the extra period to give Canada a 3-2 come-from-behind victory over the United States.
Poulin's winner was her second of the night as she tied the game with 55 seconds left in regulation time, capping off a comeback that began when Brianne Jenner scored with 3:26 remaining in regulation time. Poulin's tying goal came moments after American forward Kelli Stack's chance at an empty Canadian goal hit the post to set the stage for the final minute heroics.
Three members of the team – Haley Wickenheiser, Caroline Ouellette and Jayna Hefford – each won their fourth Olympic gold medal in the win.
Other Canadian medal winners include:
Mark Mcmorris (bronze in men's slopestyle on Feb. 8)
Justine Dufour-Lapointe (gold in women's moguls on Feb. 8)
Chloe Dufour-Lapointe (silver in women's moguls on Feb. 8)
Paige Lawrence and Rudi Swiegers (silver in the team free dance in figure skating on Feb. 9)
Charles Hamelin (gold in the mens 1500m short track speed skating event on Feb. 10)
Alex Bilodeau (gold in men's moguls on Feb. 10)
Alex Kingsbury (silver in men's moguls on Feb. 10)
Dara Howell (gold in women's slopestyle on Feb. 11)
Kim Lamarre (bronze in women's slopestyle on Feb. 11)
Denny Morrison (silver in 1000m speedskating on Feb. 12)
Patrick Chan (silver in men's figure skating on Feb. 14)
Denny Morrison (bronze in men's 1500m speedskating on Feb. 15)
Dominique Maltais (silver in women's snowboard cross on Feb. 16)
Jan Hudec (bronze in men's Super-G on Feb. 16)
Scott Moir and Tessa Virtue (silver in ice dance on Feb. 17)
Mike Riddle (silver in men's ski halfpipe on Feb. 18)
Women's team (silver in 3000m short track relay on Feb. 18)
Kaillie Humphries and Heather Moyse (gold in women's bobsleigh on Feb. 19)
Women's Hockey (gold on Feb. 20)
Jennifer Jones (gold in women's curling on Feb. 20)
Medal Count
USA – 25 (eight gold, six silver, 11 bronze)
Russia – 23 (seven gold, nine silver, seven bronze)
Netherlands – 22 (six gold, seven silver, nine bronze)
Norway – 21 (10 gold, four silver, seven bronze)
Canada – 20 (seven gold, nine silver, four bronze)
Note: countries ranked by total medals