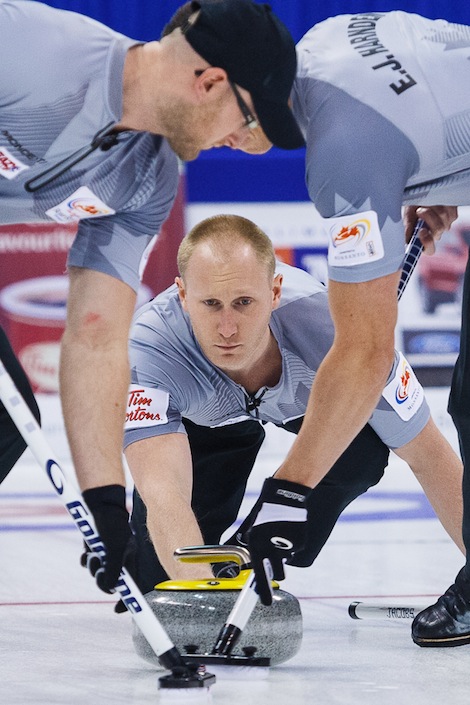 The road to a gold medal in curling at the 2014 Olympic Winter Games in Sochi, Russia wasn't going to be without some speed bumps for Brad Jacobs and his Canadian team.
In their quest for gold, the Jacobs rink, including third Ryan Fry, second E.J. Harnden and lead Ryan Harnden fell to 1-1 after a 5-4 loss to Switzerland's Sven Michel in their second game on the opening day of curling.
The loss came on the heels of a high-scoring tournament-opening win over Germany, 11-8
Against Switzerland, Canada held the hammer to open the match and the two teams cruised through four blank ends before Jacobs came up light on a draw to give Switzerland a steal of three and a lead through five ends.
A draw for two cut by Jacobs in the sixth end cut the Swiss lead to one before the two teams traded points in the seventh and eighth ends.
After Switzerland scored a single point in the ninth end to take a 5-3 lead, Jacobs final shot of the tenth end rolled out of the house, leaving the Jacobs rink with just a single point to end the math.
In other action during the second men's draw, Sweden beat Great Britain 8-4, Norway beat USA 7-4 while Denmark beat Russia 11-10. In their win, Denmark trailed by scored of 5-0, 6-1 and 9-7 before scoring three in the ninth end and winning in an extra end.
On the women's side, Team Canada, skipped by Jennifer Jones, opened the Olympics with a 9-2 win over China on Monday.
Full Jacobs Schedule
Feb. 10 vs. Germany (W 11-8); vs. Switzerland (L 5-4)
Feb. 11 vs. Sweden (5 a.m. ET)
Feb. 12 vs. Russia (10 a.m. ET)
Feb. 13 vs. Denmark (5 a.m. ET)
Feb. 14 vs. Norway (12 a.m. ET)
Feb. 15 vs. Great Britain (5 a.m. ET)
Feb. 16 vs. USA (12 a.m. ET); vs China (10 a.m. ET)
Feb. 19 Semi-Final (10 a.m. ET)
Feb. 21 Bronze Medal Game (3:30 a.m. ET); Gold Medal Game (8:30 a.m. ET)
Standings
Sweden (Niklas Edin): 2-0
Canada (Brad Jacobs): 1-1
Great Britain (David Murdoch): 1-1
Switzerland (Sven Michel): 1-1
Denmark (Rasmus Stjerne): 1-1
China (Rui Liu): 1-0
Norway (Thomas Ulsrud): 1-0
United States (John Shuster): 0-1
Germany (John Jahr): 0-1
Russia (Andrey Drozdov): 0-2
To check out SooToday.com's live blog from this morning's matchuo, click here
For a recap of Jacobs's earlier win over Germany, click here