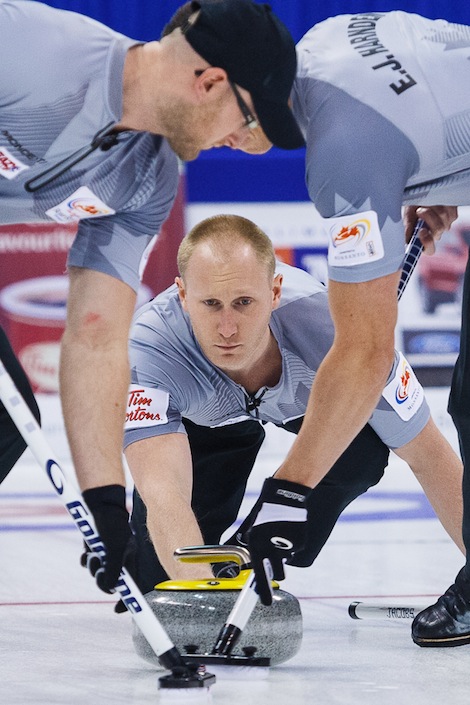 Sault Ste. Marie's Brad Jacobs and his team from the Soo Curlers Association have won five-straight in the men's curling event in the 2014 Olympics in Sochi, Russia.
With an 8-6 win over Team USA, skipped by John Shuster, on Sunday morning, the Jacobs rink improved to 6-2 heading into their final game against China later this morning.
The 6-2 record comes after the team, which includes third Ryan Fry, second E.J. Harnden and lead Ryan Harnden, opened the tournament with a 1-2 record through the first two days of action.
Shuster had an opportunity to force an extra end but his final shot of the tenth end, a draw, was light, but barely. The shot allowed the Jacobs rink to steal one in the end to seal the win.
The Jacobs rink had jumped out to an early 3-0 lead but Shuster scored twice in the third end before stealing two more in the fourth end to take the lead, only to see Jacobs score two in the fifth end to re-take the lead. The two teams would trade the lead once more in the game.
Other morning draw games saw Norway pick up a 7-6 win over Great Britain while Sweden beat Russia 8-4.
Along with the Jacobs rink facing China, the other games to wrap up Sunday's curling schedule on the men's side include Sweden facing Team USA, Norway facing Switzerland and Germany meeting Denmark.
Full Jacobs Schedule
Feb. 10 vs. Germany (W 11-8); vs. Switzerland (L 5-4)
Feb. 11 vs. Sweden (L 7-6)
Feb. 12 vs. Russia (W 7-4)
Feb. 13 vs. Denmark (W 7-6)
Feb. 14 vs. Norway (W 10-4)
Feb. 15 vs. Great Britain (W 7-5)
Feb. 16 vs. USA (W 8-6); vs China (10 a.m. ET)
Feb. 19 Semi-Final (10 a.m. ET)
Feb. 21 Bronze Medal Game (3:30 a.m. ET); Gold Medal Game (8:30 a.m. ET)
Standings
Sweden (Niklas Edin): 7-1
China (Rui Liu): 6-1
Canada (Brad Jacobs): 6-2
Great Britain (David Murdoch): 5-3
Norway (Thomas Ulsrud): 4-3
Denmark (Rasmus Stjerne): 2-5
United States (John Shuster): 2-5
Switzerland (Sven Michel): 2-5
Russia (Andrey Drozdov): 2-6
Germany (John Jahr): 1-6
To read SooToday's live blog of the game vs. Team USA, click here