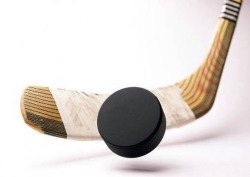 The 2013-14 hockey season locally is quickly approaching as tryouts for a pair of teams will open over the next seven days.
The Great North Midget League's Soo North Stars open their 2013-14 tryouts on Aug 20 at 5 p.m. at the John Rhodes.
The North Stars full tryout schedule is as follows:
Aug. 20 – 5:00-7:00 p.m. (Rhodes 1)
Aug. 21 – 5:00-7:00 p.m. (Rhodes 1)
Aug. 26 – 6:00-8:00 p.m. (Rhodes 1)
Aug. 27 – 5:00-7:00 p.m. (Rhodes 1)
Aug. 28 – 5:00-7:00 p.m. (Rhodes 1)
Aug. 29 – 8:00-10:00 p.m. (Rhodes 1)
Sept. 3 – 5:00-6:30 p.m. (Rhodes 2)
Cost for each session is $25 (non-refundable). Players need to be registered for Sault Major Hockey before they try out and must have proper CSA equipment on at all times. Players will also need proper documentation (permission to skate and releases if from outside the North Stars catchment area).
For more information, contact George Parsons (705-541-8039 – cell; 705-942-4180 – home; george.parsons@shaw.ca) or Mike Creedon (705-542-2813 – cell; 705-946-3159 – home; aaer@shaw.ca)
The North Stars kick off the GNML regular season on Sept. 14 when they host the Nickel City Sons.
The Northern Ontario Junior Hockey League's Soo Thunderbirds will hold tryouts beginning Friday at the John Rhodes Community Centre.
The team has a pair of scrimmages scheduled for Friday and two more on Saturday as the team prepares for their pre-season schedule.
Scrimmages begin Friday at 4:15 with a second scrimmage set for 7:30 p.m. Scrimmages on Saturday are set for Saturday morning at 11 a.m. and 4:40 p.m. An initial cut will take place after Saturday mornings scrimmage.
Players will also go through off-ice testing on Saturday morning.
The Thunderbirds will open their pre-season schedule in Elliot Lake Cottage Cup pre-season tournament. The Thunderbirds open the tournament against North Bay on Aug. 30 in the four-team tournament that also includes the Elliot Lake Bobcats and Blind River Beavers. All four teams will play two games on day two before the playoff round on Sunday.
The Thunderbirds open the NOJHL regular season on Sept. 6 against North Bay at the Essar Centre.