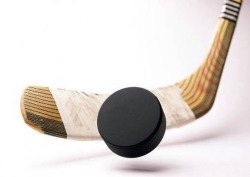 The time of year has come again locally as hockey teams in the area have begun tryouts for the 2014-15 season.
The Soo Thunderbirds of the Northern Ontario Junior Hockey League and their Great North Midget League affiliate will both see their tryouts get underway in the next seven days,
The Jr. A Thunderbirds will kick off tryouts on Aug. 15 while the AAA Midget Thunderbirds open tryouts on Aug. 18.
The AAA Midget Thunderbirds have released dates and times for their tryouts which open on Aug. 18 at 4 p.m. The tryout will continue on Aug. 19 and wrap up on Aug. 20. The final two sessions both begin at 5 p.m. All three sessions are at the John Rhodes Community Centre.
For players who did not skate during the AAA Midget Thunderbirds summer ice, cost is $15 per session, with registration beginning at 3 p.m. on Aug. 18.
Players planning to attend the tryout should email AAA Midget Thunderbirds coach Jim Capy at capyj@hotmail.com.
For further information, contact Jim Capy (705-542-9503) or team manager Jim Yardanoff (705-542-5911).
The tryouts are open to all midget-aged players while the Sault Major Hockey Association plans to have teams at the major and minor midget levels in 2014-15.
****
ATTACK CONTINUE TO PREPARE FOR NEW SEASON
The Canadian International League's Batchewana Attack held their tryouts over the weekend at Taffy Abel Arena on the campus of Lake Superior State University.
The team entered camp on Friday with seven players signed for the 2014-15 season which included four defencemen and three forwards.
Among the signees are defenceman Cade Nolan, Adam Baggs, Johan Kling and Nick Trecroce along with forwards Jacob Palmerio, Robert Delury and Nate Harris.
The team exited camp with commitments from six more players, including a pair of goaltenders.
The two goaltenders, both 1995 birth years, are Jack Hickey, who spent the 2013-14 season with the Chicago Young Americans, and Stefan Demetz, who played US high school hockey last season with the National Sports Academy.
Also signed after Sunday's final scrimmage were Brian Stack, who played for the Soo Indians, RJ Marshall and local products Jason Uhl and Shane Zorzit.
With the regular season not scheduled to begin until the first week of October, the Attack anticipate having another camp in September in preparation for the season.