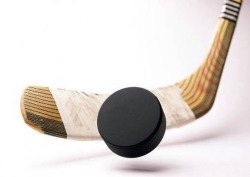 The Soo Greyhounds Bantam AAA team is heading to a fifth, and deciding, game for an opportunity to advance to the NOBHL championship.
The Bantam Greyhounds returned home having split games three and four over the weekend.
On Saturday night, the Greyhounds took a 2-1 series lead thanks to a 5-4 win over the Timmins Majors. Max Khull, Dyllon Baker, Nicholas Smith, Nolan Makkonen and Gage Stepheney scored for the Greyhounds in the win.
Timmins came back to even the series with a 7-3 win on Sunday afternoon. Makkonen, Smith and Zack Taylor scored for the Greyhounds in the loss.
The Greyhound host game five on Wednesday night at the John Rhodes Community Centre in an 8 p.m. start. The series winner advances to the league championship.
****
LAKERS SEASON CONCLUDES
The 2013-14 season came to an early end for the Lake Superior State Lakers hockey team after a weekend sweep on the road against the Ferris State Bulldogs in Western Collegiate Hockey Association action.
The Bulldogs beat the Lakers by identical 2-1 scores both nights.
On Friday night, Lakers goaltender Kevin Kapalka made 42 saves in the weekend opening loss. Colin Campbell had the lone goal in the loss for the Lakers while Kyle Schempp and Cory Kane scored for Ferris State.
Bulldogs goaltender C.J. Motte made 32 saves in the win.
On Saturday night, Scott Czarnowczan had a goal and an assist to lead Ferris State to the weekend sweep. Garrett Thompson also scored in the win while Motte made 24 saves.
Campbell had the lone Lakers goal while Kapalka made 29 saves.
The Lakers end the WCHA season with a 12-16-0 record (16-19-1 overall).
****
EAGLES SWEEP MICHIGAN WARRIORS
As they continue to battle for a playoff spot in the North American Hockey League, they did themselves a favour with a weekend sweep of the Michigan Warriors.
On Friday night, Trevor Boyd and Scott Cuthrell scored in the shootout to give the Eagles a 3-2 win. Cuthrell and Michael Sabatini scored for the Eagles in regulation time. Paige Skoog made 24 saves in the win for the Eagles. T.J. Stuntz and Cam Jorgensen scored for the Warriors in Saturday's loss while goaltender Trevor Gorsuch stopped 35 shots.
On Saturday night, Cuthrell and Matt Menta had two goals and an assist each in a 7-3 Eagles win. Ryan Urso chipped in with a goal and three assists. Nick Belger chipped in with a goal and an assist for the Ealges. Sean Campbell and Jake Faila scored for Michigan.od
The Eagles record falls to 23-23-7 with the teo k
The Eagles now prepare for a pair of road games, beginning on Friday night against Port Huron.