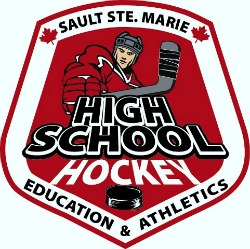 The Sault Ste. Marie high school hockey league finals are set.
After both semi-finals went to three games, St. Mary's and Korah will meet in the city final, scheduled to kick off on Tuesday night.
Korah beat St. Basil 2-1 on Wednesday afternoon at the McMeeken while St. Mary's beat CASS 7-0 at the John Rhodes.
For Korah, Justus Mancuso's goal midway through the third period held up as the winner. The series win came after Korah dropped game one of the series. Erik Simon had the other goal for Korah in the win. Darryl Ward scored the lone goal in the loss.
In game two of the series, Zach Quesnele posted the shutout while Justin Pelley scored the lone goal of the game as Korah picked up a 1-0 victory.
St. Basil took game one 2-1 thanks to goals by Taylor Lamorie and Andrew Paluzzi. Simon had the lone goal for Korah in the game one loss.
In the other semi-final, Liam Rising scored twice and added an assist in the game three win. James Foster had a goal and three assists for Ste. Mary's. Ryan Calvano chipped in with two goals. Cody Poirier and Justin Elwgren also scored for St. Mary's. Andrew Kinach picked up the shutout.
After losing game one, St. Mary's picked up a 5-3 win in game two. Poirier, Foster, Calvano, Elwgren and Jake Wright scored in the win. Dakota Raven, A.J. Daniel and Connor McDougall scored for CASS in the loss.
In game one, Will Duma picked up the shutout as CASS blanked St. Mary's 4-0. McDougall, Wes Mitchell, Hunter Pelletier and Bryce Campbell scored for CASS in the win.
Despite the semi-final losses, CASS and St. Basil will meet in a one-game playoff to determine who will represent Sault Ste. Marie at the AAA NOSSA tournament. The game will be played on Wednesday evening.
****
LEAGUE AWARD WINNERS
League Champion: St. Mary's
Best Combined Goals Against: CASS
Least Penalized Team: Superior Heights
MVP: Erik Simon (Korah) and Liam Rising (St. Mary's)
Leading Scorer: Aaron Savage (Korah)
Most Valuable Defenceman: Brett Cooke (CASS)
Most Gentlemanly Player: Jay Johnson (Korah)
Rookie of the Year: Braeden Turco (White Pines)
Academic & On-Ice Performance: Liam Rising (St. Mary's)
Matthew Howard Award: Patrick LePore (St. Basil)
All-Star teams
First Team
Goalie: Braeden Turco (White Pines)
Defencemen: Brett Cooke (CASS), Tanner Lesage (St. Mary's)
Forwards: James Foster (St. Mary's), Liam Rising (St. Mary's), Erik Simon (Korah)
Second Team
Goalie: Michael Chilleli (St. Basil)
Defencemen: Zack Junor (CASS), Brett Smith (Superior Heights)
Forwards: Colton Manchulenko (Superior Heights), Josh Fisher (St. Basil), Aaron Savage (Korah)
Third Team
Goalie: Andrew Kinach (St. Mary's)
Defencemen: Austin Kirkwood (Korah), Jake Lewis (St. Mary's)
Forwards: Jay Johnson (Korah), Patrick LePore (St. Basil), Connor McDougall (CASS)