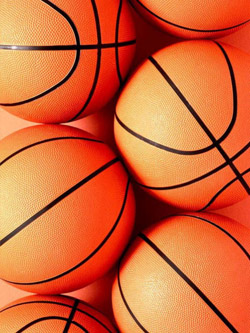 The girls high school basketball season is wrapping up locally.
In the senior division, Lydia Murray scored 20 points as St. Mary's beat White Pines 48-40. Keirsten Olar had 14 points for White Pines while Adriane Bruni added 11.
In the junior final, Angela Caicco scored nine points as St. Basil beat St. Mary's 21-19 in the title game. Alexandria Berlingieri and Hanna Soares had five points each for St. Mary's.
Sault Ste. Marie will play host to the AA NOSSA championship on Nov. 17 while also playing host to the OFSAA AA championship beginning on Nov. 21.
The high school hockey season officially kicked off on Sunday night with a pair of games at the McMeeken Centre.

In the early game Brysin Shaw had a goal and an assist to lead CASS to a 4-2 win over St. Basil. Dakota Raven, Hunter Pelletier and Steven Fluke also scored in the win. Pat LePore and Jesse Tatasciore scored for St. Basil.
The second game saw Erik Simon scored a pair of third-period goals to lead Korah past St. Mary's 5-4. Simon finished the night with two goals and an assist while Aaron Savage also had two goals and an assist. Brendon Devoe also scored for Korah. Mitch Oliverio set up two goals for Korah. Liam Rising had three goals for St. Mary's while Tanner Lesage also scored in the loss.

Earlier in the week, four teams got a start on game action as St. Mary's faced St Basil while Korah played Superior Heights in exhibition games on Wednesday night.

St. Mary's got a pair of goals along with two assists from Thomas Pratt as the Knights beat St. Basil 7-1. James Foster added two goals and an assist while Cody Deschamps and Liam Rising had a goal and an assist each in the win. Mitch Osborne also scored in the win.

Dan Biocchi had the lone goal for St. Basil.

In the other exhibition game, Savage had two goals and two assists as Korah beat Superior Heights 7-2. Jay Johnson also had a four-point night in the win with a goal and three assists. Simon added two goals and an assist while Devoe had a goal and an assist for the Colts. Jesse Allard had the other goal for Korah.

Austin Maccarone and Simon Mangone scored for Superior Heights.