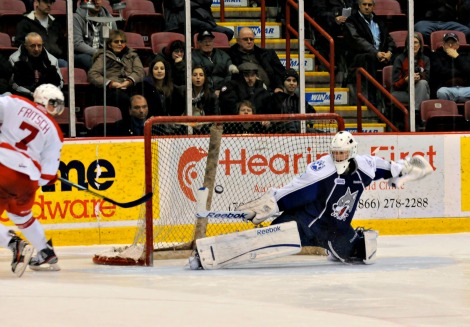 The Soo Greyhounds are hoping that having close to a full lineup will start to show with results on the ice.
As defenceman Ryan Sproul played his fourth game since returning from injury, the Greyhounds have won three of five games and dropped another game in overtime after a 5-4 shootout win over the Sudbury Wolves on Wednesday night at the Essar Centre.
The only regulars out of the lineup on Wednesday were forward Sergey Tolchinsky, who missed the game due to injury but is expected back on the weekend, and overage defenceman Chris Buonomo, who was serving game 10 of a league-imposed 15-game ban.
Greyhounds coach Mike Stapleton said the difference has been noticeable.
"Not as an excuse, but when you lose your two best defencemen (Sproul and Colin Miller), it's going to hurt your team," said Stapleton. "Getting those guys back and playing, you can see Darnell's got more energy in the game. He can jump up into the play and get back. It just makes for a lot better situation."
Stapleton wasn't pleased with the play of his team in the opening period but felt the club got better as the game wore on.
"We were structurally ok but we just weren't aware of certain situations, they got a couple of bounces and away they go," said Greyhounds coach Mike Stapleton. "We talked to them in between the first and second periods and just said that we've got to stay with it and believe in it."
Andrew Fritsch scored the shootout winner while David Broll and Brandon Alderson had a goal and two assists in the win. Colin Miller chipped in with a goal and an assist while rookie forward Landon Schiller scored his first Ontario Hockey League goal in the win.
Goaltender Matt Murray stopped 34 shots for the Greyhounds (12-13-2-0).
Frank Corrado and Mathew Campagna had a goal and an assist each for the Wolves in the loss while Jacob Harris and Charlie Dodero also scored. Goaltender Joel Vienneau stopped 32 shots for the Wolves (10-14-0-4).
"We're not an upper echelon team but they're working (hard) every night," said Wolves coach Trent Cull. "The older guys have been playing hard from day one and we don't have many older guys. All of the group of young guys are getting ice time too and it's tough. It's a 19-year-old league and when you have a load of 19-year-olds, they're your horses that are going to win you games. It's a struggle."
The Greyhounds return to action on Friday night when they host the Erie Otters in a 7:07 p.m. start at the Essar Centre.
OTHER SCORES: Plymouth 4, Erie 3 (OT); Belleville 6, Niagara 2