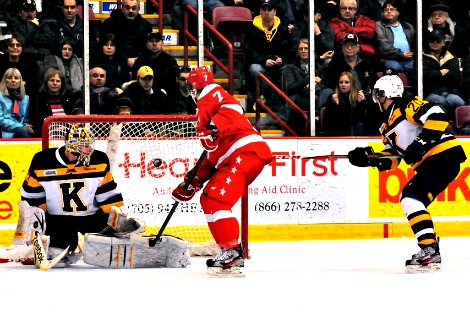 The Northern Football Conference's Sault Steelers weren't in action on Saturday night at the Essar Centre but it's easy to forgive anyone if they thought the NFC team was in action.
With the Kingston Frontenacs in town, the Soo Greyhounds picked up a 10-7 win over their East Division visitors after a three-goal third period. With the win, the Greyhounds keep pace with the West Division-leading Plymouth Whalers and second-place Sarnia Sting, who also won their games on Saturday night.
Greyhounds coach Sheldon Keefe was critical of his team following the win, specifically for their play defensively.
"We've had some efforts that were pretty bad but we got the save and tonight we didn't get the saves so everything was amplified that much more," said Keefe. "I don't even think it was so much the missed assignments on the goals because a lot of them were scored so far away from our net. We turned pucks over and we didn't have structure."
OHL scoring leader Nick Cousins increased his lead thanks to a five-point night. Cousins scored a pair of goals and assisted on three others in the win and now had a six-point cushion over Sarnia's Charlie Sarault.
Greyhounds defenceman Colin Miller also had a five-point night with a goal and four assists in the win. Brandon Alderson (two goals, two assists) and Ryan Sproul (four assists) also had big nights. Andrew Fritsch, David Broll, Darnell Nurse, Michael Schumacher and Sergey Tolchinsky also scored for the Greyhounds.
"We're fortunate that we've got talented people that can find their way out of issues like we had tonight," said Keefe. "it doesn't change the fact that in the first 40 minutes we were poor in how we managed the puck and how we were committed to defence."
Goaltender Matt Murray had a tough night, leaving the game in the second period after giving up six goals on 28 shots. Justin Nichols stopped five shots the rest of the way.
Henri Ikonen had two goals and an assist for the Frontenacs. Cody Alcock added a goal and a pair of assists. Ryan Hanes, Ryan Kujawinski, Sam Povorozniouk and Spencer Watson also scored for Kingston. Goaltender Mike Morrison stopped 38 shots in the loss.
The Greyhounds return to action on Feb. 21 in Sarnia when they open up a three-game road trip.
Photo courtesy JIm Egan
For details from all of Satrurday's games in the OHL, click here