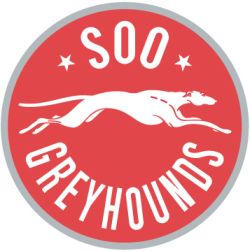 SAGINAW, MI. – The Soo Greyhounds got their first win under new coach Sheldon Keefe on Saturday night and tightened up the Ontario Hockey League's Western Conference standings in the process.
The Greyhounds scored a 6-4 win over the Saginaw Spirit on Saturday night, and bypassed the Spirit in the process. The Greyhounds sit tied with the Spirit in points with 30, but hold down the eighth seed thanks to having one more win (14) than the Spirit (13). The Greyhounds also hold two games in hand on the Spirit.
The win also pulls the Greyhounds, who sit one game below .500 at 14-15-2-0, to within two points of Windsor in the standings.
Nick Cousins led the offensive attack for the Greyhounds on Saturday with a goal and two assists in the win. His power play goal late in the second period held up as the eventual game-winner. David Broll added a pair of goals for the Greyhounds while defenceman Colin Miller had a goal and an assist. Dylan Staples and Nick Halagian also scored in the win.
Defenceman Ryan Sproul, who will participate in the Canadian National Junior Team Selection camp that begins on Monday, continued his torrid scoring pace since returning from injury with three assists. Since his return on Nov. 21, Sproul has four goals and 12 points in eight games. Darnell Nurse and Michael Schumacher chipped in with two assists each for the Greyhounds.
Rookie goaltender Justin Nichols stopped 36 shots.
Eric Locke led the Spirit with a pair of goals in the loss while Garret Ross and Vincent Trocheck also scored. Spirit goaltender Nikita Serebryakov stopped 23 shots in the loss.
The Greyhounds wrap up their road trip on Sunday afternoon in Sarnia in a 2 p.m. start.
OTHER SCORES: Guelph 8, Erie 0; Oshawa 4, Plymouth 3; Peterborough 5, Sudbury 4 (SO); Barrie 6, Kingston 2; Belleville 4, Owen Sound 2