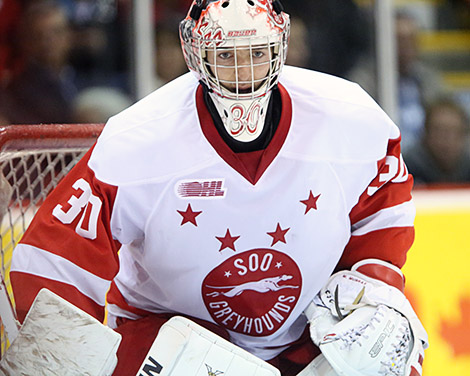 A three-game homestand opened for the Soo Greyhounds as the hosted the Sarnia Sting at the Essar Centre.
The Greyhounds needed a shootout as they picked up a 3-2 win over the Sting, snapping a three-game losing skid in the process. Despite needing a shootout, the Greyhounds had plenty of chances in regulation time to pick up the win but had trouble capitalizing on their chances.
"It's been the story here since we come back in the new year," said Greyhounds coach Sheldon Keefe. "And it's not even the shots on net, it's that we're missing the net. My ears are sore tonight from hearing all the glass we were hitting."
Keefe went on to say that Sarnia goaltender Brodie Barrick played well despite the Greyhounds struggles to score.
"He didn't let in anything bad and didn't really give us many second chances on rebounds," Keefe added. "But we had a lot of great chances where we shot it into him or missed the net entirely. We hit some crossbars and posts. That's been the story for us here. Pucks just haven't been going in for us."
Barrick made 42 saves for Sarnia in the loss.
Blake Speers and Tyler Gaudet scored for the Greyhounds in regulation time while Speers had the shootout winner for the Greyhounds. Andrew Fritsch and Sergey Tolchinsky also scored in the shootout for the Greyhounds.
Goaltender Matt Murray, appearing in career game number 150, stopped 20 shots in the win.
The game also marked the Greyhounds debuts of Bryan Moore and Tyler Hore. The two would be acquired from Sarnia in exchange for defenceman Kevin Spinozzi.
"He was really good," Keefe said of Moore, who played on a line with Jared McCann and Andrew Fritsch. "He complemented those guys really well considering he didn't even have so much as a practice and just met them."
"He was fine," said Keefe of Hore. "It's tough for a defenceman because our system is much more complex for a defenceman than it is for a forward. There's a lot involved. We tried not to throw too much at him but I thought he did a nice job."
Patrick White and Nikolay Goldobin scored for the Sting in the loss.
"We got a big effort from Brodie Barrick," said Sarnia coach Trevor Letowski. "That's probably the difference tonight. Our guys had a good effort and I was happy with our game. That was a tough test for us. (The Greyhounds) are a high-flying team. They come with pace and they had too many scoring chances but Brodie held the fort."
The game was also the first for Kevin Spinozzi in a Sarnia jersey as he was part of the trade that brought Moore and Hore to the Greyhounds.
"He played had and that's pretty much what we expected," said Letowski of Spinozzi. "He was physical down low in our zone and he move the puck pretty well. There were a couple of situations where he looked nervous but that's to be expected."
With the win, the Greyhounds improve to 27-10-1-4 while Sarnia falls to 12-23-1-4. The Greyhounds have won six of their last ten games while also dropping an overtime and shootout decision. Sarnia had four regulation losses and two shootout losses in the East.
The Greyhounds continue their three game homestand with a pair of games over the weekend. The Greyhounds host the Mississauga Steelheads on Saturday night at 7 p.m. before meeting with the London Knights on Sunday afternoon at the Essar Centre.
Matt Murray file photo courtesy SooToday.com's Kenneth Armstrong
For video highlights from Wednesday night, click here.
to read SooToday.com's live blog from the game, click here