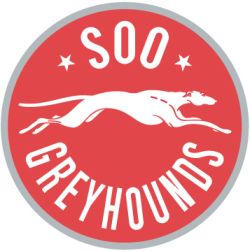 SAGINAW, MI – The Soo Greyhounds have made quite the name for themselves this season when trailing hockey games.
Becoming known as the cardiac kids, the Greyhounds continued the trend on Saturday night in Saginaw and, in the process, kept themselves firmly entrenched in the race for top spot in the Ontario Hockey League's West Division.
The Greyhounds picked up a 5-4 shootout win over the Spirit at the Dow Events Center in Saginaw.
Jared McCann scored the shootout winner for the Greyhounds as they gained a pair of points on the Sarnia Sting, moving three points ahead of Sarnia in the standings. Sarnia dropped an 8-3 decision to the Belleville Bulls on Saturday night.
The win also helped the Greyhounds keep pace with the West Division-leading Plymouth Whalers, who beat the Peterborough Petes on home-ice. The Whalers sit a point ahead of the Greyhounds. The Whalers hold a game in hand on the Greyhounds as the season winds down.
The Greyhounds fell behind 3-0 through one period before outshooting the Spirit 35- 19 the rest of the way en route to the comeback.
The win saw four different Greyhounds score in the win. Dylan Staples, David Broll, Sergey Tolchinsky and Ryan Sproul scored in the win. McCann and Nick Cousins each had a pair of assists in the win. The two assists give Cousins a three-point lead over London's Seth Griffith in the OHL scoring race.
Matt Murray got the start but was pulled after giving up goals on the first two shots he faced. Justin Nichols came in and stopped 25 shots the rest of the way.
Jimmy Lodge scored a goal and assisted on three others for Saginaw. Garret Ross scored a pair of goals and assisted on another in the win. Eric Locke chipped in with a goal and an assist.
Jake Paterson stopped 42 shots in the loss.
The Windsor Spitfires were the lone team in the West Division not in action on Saturday night. The Spitfires return to action on Sunday afternoon when they host the Guelph Storm in a 2:00 p.m. start.
The Greyhounds return to action next weekend with a three-game road trip that opens in Brampton on Thursday night. The team will also make stops in Peterborough (Saturday) and Oshawa (Sunday).
For details on the OHL's other five games, click here.