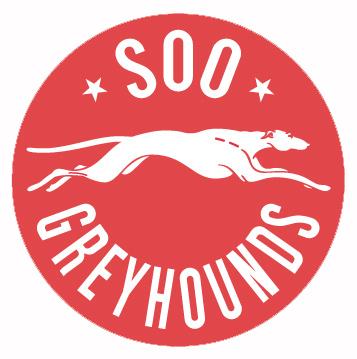 Aug. 26 at 10 a.m., the 2014-15 Ontario Hockey League season officially kicks off for the Soo Greyhounds.
That's when players will begin registration for the Greyhounds 2014 training camp at the Essar Centre.
The team is expecting 38 players to be in town, including 17 players returning from the Greyhound team that won the OHL's West Division a season ago.
The team has set up their overage situation for the upcoming year as Dylan Corson is not among those in camp.
The team will start the season with forwards Bryan Moore and Jean Dupuy along with defenceman Alex Gudbranson as their three overage players with Corson, acquired in a trade with the Barrie Colts that saw the Greyhounds send Nick Pastorious and a draft pick to Barrie, being the odd man out.
Among the other returnees:
Goaltender (1): Brandon Halverson ('96)
Defencemen (5): David Eccles ('96), Tyler Ganly (95), Tyler Hore ('95), Kyle Jenkins ('96), Colton White ('97)
Forwards (8): Michael Bunting ('95), Keigan Goetz ('96), Charley Graaskamp ('96), Trent Mallette ('96), Jared McCann ('96), David Miller ('96), Blake Speers ('97), Sergey Tolchinsky ('95)
The team also enters camp with a number of prospects signed, including five from the 2014 OHL Priority Selection. The team has first rounder Anthony Salinitri, second round picks Joseph Raaymakers and Boris Katchouk, third round pick Tim Gettinger as well as eighth rounder Jack Kopacka signed though nmot all will spend the entire season with the Greyhounds.
Other prospects signed by the team include 2013 draft picks Heyden Verbeek and Zachary Senyshyn, 2012 pick Medric Mercier and 2011 sixth round pick Gabe Guertler.
Guertler is an intriguing signing by the Greyhounds.
The 19-year-old spent two seasons with the United States League's Fargo Forge after being selected by the Greyhounds in the 2011 OHL draft. The 2013-14 season saw Guertler play at the University of Minnesota.
The Greyhounds signed the former Golden Gopher in July, who will forego his remaining three years of NCAA eligibility in the process.
On-ice workouts officially kick off on Aug. 26 when the three teams participate in three separate fitness assessments beginning at 5 p.m.
Scrimmages begin on Aug. 27 at 11:30 a.m.