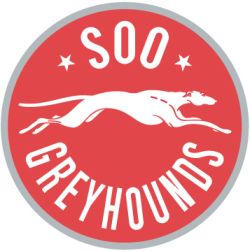 Call it an emphatic way to end a losing streak.
The Soo Greyhounds beat the Sarnia Sting 9-2 on Sunday night at the Essar Centre, ending a six game losing skid in the process.
In all, 12 players picked up points while eight different players had goals in the win, the first for the Greyhounds since beating Guelph 6-2 in Guelph on Oct. 28.
"They came out hard right from the get-go and got rewarded for playing a solid game," said Greyhounds coach Mike Stapleton. "Sarnia's a good team and if you give them a chance to get back into the game, they can do it. We kept pushing hard after the first period. We talked to them about it, that you can't let off the gas. That's a credit to the 20 guys in the room."
Stapleton added that keeping Sarnia's shots to the outside for much of the night was also a major positive.
Nick Cousins had a five-point night for the Greyhounds with a pair of goals and three assists while Andrew Fritch added a goal and two assists. Colin Miller and Jared McCann had a goal and an assist each for the Greyhounds while Dylan Staples, Trent Mallette, Michael Schumacher and Sergey Tolchinsky also scored for the Greyhounds. Alex Gudbranson had three assists while David Broll and Darnell Nurse chipped in with two each for the Greyhounds.
Matt Murray was supposed to get the start on Sunday night but was kept out of the lineup due to illness. Instead, Justin Nichols got the start, stopped 29 shots and picked up his first OHL victory in the process.
Craig Duininck and Reid Boucher scored for Sarnia in the loss while Charles Sarault assisted on both goals.
"It wasn't our night," said Sarnia coach Jacques Beaulieu. "In junior hockey, those games are going to happen. You just have to get on the bus, go home and get some rest. There's a little bit of the flu going through the team right now and not much energy. There was some sloppy play right from the start of the weekend that was going to catch up and it caught up with us tonight."
Goaltender Brodie Barrick got the start for Sarnia but was pulled after giving up two goals on three shots in the opening six minutes of the game. JP Anderson came in and stopped 21 shots the rest of the way.
The Greyhounds wrap up their three-game homestand on Wednesday night when they host the Saginaw Spirit in a 7:07 p.m. start at the Essar Centre.
OTHER SCORES: Kingston 5, Niagara 4 (SO); Plymouth 3, Ottawa 2; Owen Sound 1, Windsor 0; Barrie 7, Sudbury 2; Mississauga 5, Oshawa 3; London 4, Kitchener 3