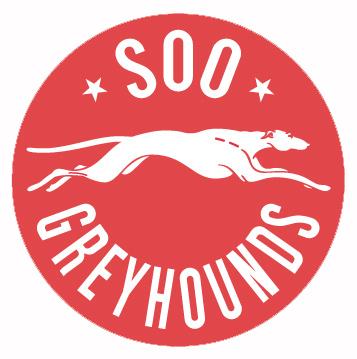 A slow start was something the Soo Greyhounds managed to overcome on Tuesday night as they faced the North Bay Battalion in North Bay.
After falling behind 2-0 through one period, the Greyhounds scored five of the next six goals in the game to beat the Battalion 5-3 and improve to 13-2-0-2 in the process.
"We had a very poor first period, possibly our worst (period) of the season," said Greyhounds coach Sheldon Keefe. "We just weren't sharp mentally or physically. We made a lot of mistakes and had a lot of turnovers. We took a lot of uncharacteristic penalties. We really just weren't ready to start the game."
The Greyhounds regrouped between periods and proceeded to score four times in the second period to build up a 4-2 lead through 40 minutes.
"It was just a bit of a wakeup call," said Keefe of the message following the first period. "We just weren't ready to start and North Bay is a team that doesn't give you anything easy. They're big bodies and they're physical. We had to be strong on coverage and strong on pucks and we just weren't ready to play or to give the necessary level of compete that we needed to play in the first period. Five-on-five we did some pretty good things but we just weren't sharp."
The teams traded third period goals to complete the scoring in the third period.
Sergey Tolchinsky led the way for the Greyhounds with two goals and an assist in the win.
"He's a game-changer,' Keefe said of the Russian forward. "We were down 2-0 and needed to have a great second period and he found a way to poke in a goal and there were a lot of good things that happened on the play. (Jared) McCann and (Michael) Bunting contributed to the goal and Ganly was up in the play as well. (Tolchinsky) made a great finish to score his second goal of the period. He's been a game-breaker and the explosive player that we expect him to be."
Darnell Nurse and Tyler Gaudet chipped in with a goal and an assist offensively for the Greyhounds while Michael Bunting also scored. Matt Murray made 28 saves for the Greyhounds.
Jared McCann returned to the Greyhounds lineup in the game and set up a pair of goals in the win,
"It was really good to have him back tonight," Keefe said of McCann. "It was somewhat of a transitional game for him tonight as well getting back into it after some time away and getting comfortable and convincing himself through playing that he is healthy. He made some high-end skill plays tonight and really helped us get going in the second period."
Vincent Praplan scored a pair of goals for the Battalion while nick Paul also scored in the loss. Goaltender Brendan O'Neill stopped 28 shots.
The Greyhounds return home for a pair of games this week, beginning Thursday night when they host the Owen Sound Attack in a 7:07 p.m. start at the Essar Centre.
Video Highlights
Highlights courtesy SooToday.com sister site BayToday.ca and is voiced over by BayToday's Chris Dawson